The rich grow richer and the poor, poorer. The much-used phrase continues to be true, according a new Oxfam report.
In 2018, a 12% increase in the wealth of the very richest contrasted with a fall of 11% in the wealth of the poorer half of the world's population.
Right now, the world's 26 richest people own as much as the 50% of the poorest half of the world's population. In the 10 years since the financial crisis, the number of billionaires has nearly doubled. Between 2017 and 2018 a new billionaire was created every two days, summarises The Guardian.
CONCENTRATED WEALTH
"The massive fall in the number of people living in extreme poverty is one of the greatest achievements of the past quarter of a century but rising inequality is jeopardising further progress", said Oxfam's policy director Matthew Spencer. "The way our economies are organised means wealth is increasingly and unfairly concentrated among a privileged few while millions of people are barely subsisting".
The new figures will probably be one of the talking points of the upcoming World Economic Forum in Davos (Switzerland).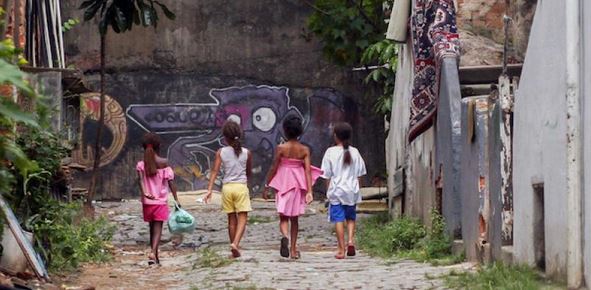 Children in a Brazilian city. / Photo: Apu Gomes/Oxfam
WHAT DOES IT MEAN TO BE RICH?
But these figures should not only lead the richest among the rich to take action. Most citizens in our continent are among the richer half of the population. Most Europeans who are able to work or enjoy a pension are rich when compared to the population of Majority World countries.
Jesus spoke several times about how we relate to wealth, about the risk of not administering our money possessions well.
"Watch out! Be on your guard against all kinds of greed; life does not consist in an abundance of possessions", Jesus says to His listeners at one point, in the gospel of Luke.
He then tells a parable about a rich man who has not enough place to store all his crops. "This is what I'll do", the man says. "I will tear down my barns and build bigger ones, and there I will store my surplus grain. And I'll say to myself, 'You have plenty of grain laid up for many years. Take life easy; eat, drink and be merry'".
We know how the parable ends: God decides to take the rich's man life that same night: "You fool! Who will get what you've prepared for yourself?"
HONOURING THE GIVER
The Bible is very clear about how easily we turn money into an idol, a way of securing our security. Scriptures also speak clearly about the consequences of greed in our life and in those around us. And especially the Old Testament addresses justice for those who are poor, marginalised and oppressed in great depth.
God calls us to use the money placed in our hands in a way that honours Him, the Giver. Let us use what we have well and not be fools!