According to the EU's Copernicus Climate Change Service, "the latest data show that this year continues to bring record-breaking temperatures".
"Every month in 2019 has ranked among the four warmest for the month in question. June was the warmest June ever recorded, and it is now confirmed that July was also an exceptional month", the Copernicus aency said.
WARMEST JULY IN DATA RECORD
The EU researchers explained that "the global temperature was substantially above average in July 2019, sufficient for the month to become by a narrow margin the warmest July in this data record".
"July 2019 was 0.56°C warmer than the average July from 1981-2010; and about 0.04°C warmer than July 2016, the previous warmest July in this data record, a margin that is small compared with the typical differences between datasets for previous Julys".
The difference is that, while the 2016 record followed a strong El Niño weather event, which boosts average global temperatures beyond the impact of global warming alone, in 2019 nothing like that has happened.
"WESTERN EUROPE IS ABOVE AVERAGE"
Regardless of the records, scientists focus on the increase of the temperatures, warning that "the warming trend is not limited to Julys. Surface air temperature has been increasing in all months of the year over the last four decades. When we look back over the last four years (2015-2018) they have been the four warmest years on record".
"Western Europe was above average, largely due to the short, but very intense heatwave in the last week of the month", Copernicus report pointed out.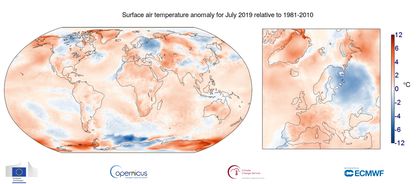 Surface air temperatures have risen in the last decades. / EU Copernicus.
On July, 25, Germany, Belgium, Luxembourg, the Netherlands and the United Kingdom reached national temperature records, with temperatures of above 40°C a for the first time.
In France, Paris recorded its hottest day on record that same day, with a temperature of 42.6 °C, an unprecedented value since the beginning of measurements.
But the increase has not only affected Europe, "temperatures were particularly high, compared to the 1981-2010 average, over Alaska, Baffin Iceland, Greenland, parts of Siberia, the central Asian Republics and Iran, as well as large parts of Antarctica".
WMO: "JULY HAS REWRITTEN CLIMATE HISTORY"
All these data was also confirmed by the World Meteorological Organization (WMO), a specialized climate agency of the United Nations, which released a statement on August, 1.
"July has re-written climate history, with dozens of new temperature records at local, national and global level", said WMO Secretary General Petteri Taalas.
He also warned that "the extraordinary heat was accompanied by dramatic ice melt in Greenland, in the Arctic and on European glaciers. Unprecedented wildfires raged in the Arctic for the second consecutive month, devastating once pristine forests which used to absorb carbon dioxide and instead turning them into fiery sources of greenhouse gases".
CLIMATE CHANGE
"This is not science fiction. It is the reality of climate change. It is happening now and it will worsen in the future without urgent climate action", Taalas added.
According to Johannes Cullmann, Director of WMO's Climate and Water Department, "such intense and widespread heatwaves carry the signature of man-made climate change. This is consistent with the scientific finding showing evidence of more frequent, drawn out and intense heat events as greenhouse gas concentrations lead to a rise in global temperatures".
NO MORE THAN 1.5 °C INCREASE
The 2015 Paris climate agreement aimed to keep global temperatures from rising more than 1.5 °C by the end of the century, compared with pre-industrial times. July 2019 was close to 1.2°C above that pre-industrial level.
"Climate-related risks to health, livelihoods, food security, water supply, human security, and economic growth are projected to increase with global warming of 1.5 °C and increase further with 2 °C", the Panel on Climate Change of the WMO said.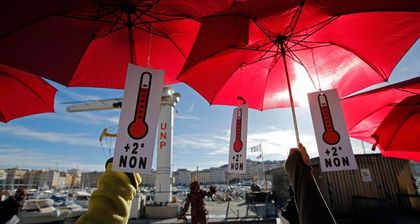 The 2015 Paris climate agreement aimed to keep global temperatures from rising more than 1.5°. / COP21.
Ii added that "limiting warming to 1.5°C rather than 2°C could result in 420 million fewer people being exposed to severe heatwaves".
UN CLIMATE SUMMIT IN SEPTEMBER
The UN Secretary General, Antonio Guterres, has organized a Youth Climate Summit for September 21, to be followed by a Climate Action Summit for world leaders on September 23, the day before their annual gathering at the UN General Assembly.
"If we do not take action on climate change now, these extreme weather events are just the tip of the iceberg. And, indeed, the iceberg is also rapidly melting", Guterres said after the publication of the temperatures data.
"Preventing irreversible climate disruption is the race of our lives, and for our lives. It is a race that we can and must win", he underlined.