According to the National Oceanic and Atmospheric Administration (NOAA) and the NASA, Earth's string of hottest-months-on-record has now reached nine in a row. They stated that January´s temperature was above normal by the highest margin of any month on record.
Arctic sea ice was at a record low extent in January. More than 1 million square kilometers lower than the 1981–2010 average since temperatures were 2.2 to 7.3 degrees Celsius (4 to 13 degrees Fahrenheit) above average in the Arctic circle.
MORE THAN ONE DEGREE HOTTER
NASA's preliminary analysis revealed that global temperature departure was 1.13 degrees Celsius above average in January, which is warmer than any other month on record.
The NOAA, which calculates temperatures differently, said last month was 1.04 degrees Celsius, which is the second biggest margin in history. Records go back to 1880.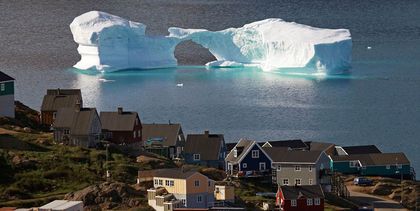 Iceberg drifting off the village of Kulusuk in Greenland. / Reuters
It is the fourth month in a row that the global departure has been more than 1 degree Celsius, just after leaders agreed in Paris to not allow Earth's temperature to rise above 2 degrees.
TEMPERATURES RAISING WORLDWIDE
There were 'colder-than-normal' patches in parts of the United States, Europe and Asia in January. These continents were overwhelmed by incredible "off our chart" warming in the Arctic region, according to NOAA climate scientist, Jessica Blunden.
"Siberia, northwest Canada, and a lot of Alaska were at least 9 degrees Fahrenheit warmer than normal." she explained.
Blunden added: "That heat was why there was record low sea ice in the Arctic for this time of year, when sea ice grows."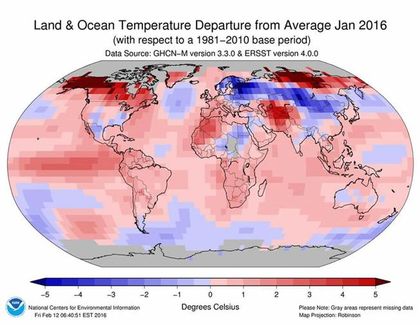 Land and ocean temperatures. / NOAA
"Climate change is the challenge of our generation, and NASA's vital work on this important issue affects every person on Earth." The NASA Administrator, Charles Bolden, said in a statement.
CLIMATE CHANGE AND EL NIÑO
El Niño is a warming of the ocean surface, or above-average sea surface temperatures (SST), in the central and eastern tropical Pacific Ocean.
NASA chief climate scientist, Gavin Schmidt, blamed the record heat mostly on man-made climate change, with an assist from El Niño.
The string of nine consecutive record hot months matches June 1997 to February 1998, which was the last time Earth had a large El Niño. Although it is still behind the 10 straight months of record heat in 1944, "it is likely we will tie that record in February." Blunden warned.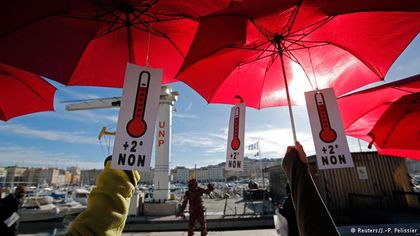 World leaders agreed in Paris to not allow Earth's temperature to rise above 2 degrees.
WORST FIGURES IN HISTORY
The warm El Niño event in the Pacific Ocean certainly played a role in the record, but experts also believed that greenhouse gas emissions from the burning of fossil fuels have been turning up the heat on our planet for decades.
Overall, the global annual temperature has increased at an average rate of 0.07°C (0.13°F) per decade since 1880 and at an average rate of 0.17°C (0.31°F) per decade since 1970.
Historically, most of the Earth's warming took place in the past 35 years, with 15 of the 16 warmest years on record occurring only since 2001.
NOAA's Climate Prediction Center expects that the strong El Niño will weaken in February, and it is likely to become neutral by late spring or early summer 2016. This will possibly shift to La Niña (a cooling of the ocean surface, or below-average sea surface temperatures, in the central and eastern tropical Pacific Ocean) in the fall.
Read articles about Christian campaigners advocating for planet care: Katharine Hayhoe, Efraim Tendero, Dave Bookless, Michael Wickham, Steven van den Heuvel.