After two weeks of competition, the Ecumenical Jury of the Cannes Film Festival awarded Terrence Malick's US-German film A Hidden Life.
"The compelling story of Franz Jägerstätter, an Austrian farmer, who with the support of his wife, Fani, refused to pledge allegiance to Hitler, presents a profoundly human dilemma", the jury said in a statement.
According to them, "the film's high cinematographic values, direction, editing and script, express and explore the difficult challenges to the integrity of the human person on the level of conscience in the face of great evil".
"This is a universal story about the choices we make that transcend every earthly concern to follow one's conscience", the jury concluded.
IN CANNES SINCE 1974
The Ecumenical Jury has been invited by the Cannes Film Festival to give a prize to a film from the official competition, since 1974.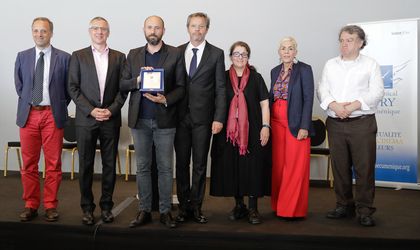 The Ecumenical Jury of the Cannes Film Festival and Terrence Malick. / Cannes jury oecumenique.
The members are chosen by SIGNIS (World Catholic Association for Communication) and Interfilm (International interchurch film organisation). They "are professionals in the cinema field as journalists, critics, theologians, teachers, coming from different cultures and countries".
This year jury was composed of reverend Roland Kauffmann (France, President of the Jury), journalist Xavier Accart (France), journalist and producer Lucia Cuocci (Italy), Spokesman of the Archdiocese Berlin Stefan Förner (Germany), film journalist Rosse Pacatte (USA) and film critic Konstantin Terzis (Greece).
"WORKS THAT SHOW VALUES OF THE GOSPEL WIDELY SHARED ACROSS ALL CULTURES"
"The jury is open to inter-religious dialogue. They meet at multiple times during the festival, analyse, comment the films and deliberate in complete independence", reads its website.
It "distinguishes works that show both artistic and human qualities, that reflect the deepness of the soul and the complexity of the world, that evince justice, human dignity, respect for the environment, peace, solidarity, reconciliation... values of the gospel that are widely shared across all cultures".
Additionally, "in its choices, the Ecumenical jury shows an openness to cultural, social or religious diversity".