An international team of Iraqi and US archaeologists has discovered eight stone slabs with Assyrian carvings from the time of King Sennacherib on them.
The discovery was made in the process of restoring Nineveh's monuments after a group of militants from ISIS destroyed part of the historic city's heritage when they seized Mosul in 2016.
The restoration team was working in the area of the Mashki Gate, which was partially destroyed by the jihadists, when the slabs with the carvings were unearthed.
"They belong to King Sennacherib (705-681 BC)", confirmed Iraqi State Board of Antiquities and Heritage director Laith Majid Hussein.
The carvings correspond to the figures of Assyrian soldiers of that period, who are shown shooting their bows. The slabs are also carved with vegetable elements such as palm trees, grapes, pomegranates and figs.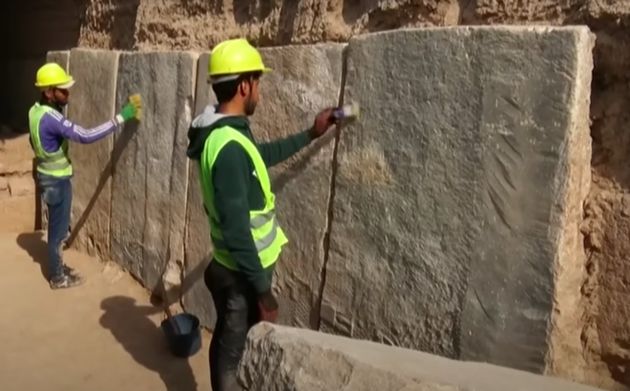 [photo_footer] Archaeologists from the University of Mosul, in collaboration with a group of US experts and the support of the International Alliance for the Protection of Heritage in Conflict Areas, have found the carvings. / BBC, Youtube screenshot [/photo_footer]
The Assyrian expansion period
King Sennacherib is a figure who appears repeatedly in the Old Testament.
He is related to the period of expansion of the Assyrian Empire in the East, invading much of Judah with a great army, after his ancestors had conquered Samaria and the northern kingdom in 722 BC.
The biblical text mentions him in 2 Kings 18:13-19:37, even recounting his death at the hands of two of his sons. The parallel passage is in 2 Chronicles 32:1-23.
His military campaign in Judah is also mentioned in the book of Isaiah, chapters 36 and 37.
According to the head of the Iraqi archaeological team, Fadel Mohammed Khodr, the slabs "were moved from the palace of Sennacherib and reused by Ashurbanipal. the grandson of the king to renovate the gate of Mashki and to enlarge the guard room".
The restoration project of the Mashki Gate is supported by archaeologists from the University of Mosul, the University of Pennsylvania and the International Alliance for the Protection of Heritage in Conflict Areas (ALIPH).
Like many other pre-Islamic monuments, it was targeted during the ISIS invasion of much of Iraqi territory between 2014 and 2016.