A stele (marble slab) with a signature in the name of Persian King Darius I was unearthed in the centre of Phanagoria, the remains of an ancient Greek city near Crimea and the Black Sea.
The Archeological expedition was started in 2004, the Oleg Deripaska Volnoe Delo Foundation explained on their website, a work conducted with the Russian Academy of Sciences' Institute of Archaeology.
According to scientists' estimates, around 10 to 15% of the message has survived on the stele. The decoded inscriptions state someone made them in the name of the Persian King Darius I (550-486 B.C.)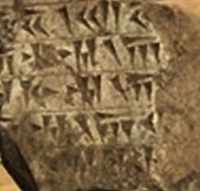 The inscription mentioning Darius I.
The text, in Ancient Persian language, contains a word unregistered before and roughly interpreted as the place named "Miletus", one of the biggest cities in Ionia, a region known as Asia Minor now.
Miletus stood at the head of the so-called Ionian uprising of Greek city states against Darius I. It was suppressed in 494 B.C.
Archaeologists believe the king put up a marble stele in the city after his victory over the Greeks. The monument had a text on it, reporting on the king's triumph. Later on, a fragment of the overturned and broken stele got to Phanagoria – quite possibly, as ballast on a ship that called into the Phanagoria port, since there is no natural stone of the kind on the Taman peninsula.
A "SCIENTIFIC SENSATION" IN PHANAGORIA
Vladimir Kuznetsov, director of the "Phanagoria" State Museum-Preserve of History and Archaeology, head of the complex archaeological expedition of the Russian Academy of Sciences' Institute of Archaeology, Doctor of Historical sciences, said:
"The finding of the stele with a king's inscription which was created on behalf of Darius I and, obviously, dedicated to the Ionian Revolt's suppression, is, without exaggeration, a scientific sensation of international importance. Discovering such an artifact in Phanagoria places this ancient city in the context of one of the most significant events in early history with far-reaching effects for Greeks and Persians alike."
Phanagoria was the major economic and cultural centre of the Black Sea region, one of the biggest Greek cities, the first capital of the Great Bulgaria, one of the main cities of Khazar Kaganate. It is also one of the ancient centres of Christianity.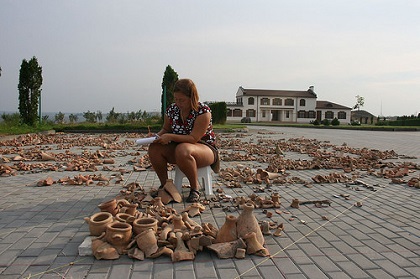 The research at the Phanagoria site started in 2014. / Oleg Deripaska Volnoe Delo Foundation
DARIUS I IN THE BIBLE
Darius I is one of the main characters of the book of Ezra (Old Testament).
This Darius (who should not to be confised with other Darius in the Bible) funded the restoration of the Israelite temple in Jerusalem. The work was completed in 515 b.C, as mentioned in Ezra 6:15.