After the worship service ended on a recent Sunday, Erika spontaneously came up to me (Susan) and asked with a smile, 'Can I pray for you?'
I replied, 'Yes, you can.' I told her about the Second Lausanne Forum on Children-at-risk and mentioned that all the people coming would be working on issues important to children-at-risk.
She said, 'Let's pray,' and then proceeded to pray for me and for all of the participants. She asked for God's blessings upon us and that we would do good work for children.
Mission with children like Erika
Erika is not one of the adult women from our congregation. Erika is nine years old. She is slim and olive-skinned, with long dark wavy hair that reveals her Middle Eastern heritage. I have watched her pray aloud through every room as a group of us gathered for the blessing of a church family's home. I have witnessed her rush to the front of the church to lay hands on and pray for people we are sending out for ministry. I have warmed to her smile as she greets me at the door to the sanctuary, offering a bulletin and a cheerful 'good morning!' I have rejoiced in her concentration as she passes the offering basket, taking her role as an usher seriously and fulfilling it with dedication and child-like grace. I have also watched with joy as she plays outside, while keeping a watchful eye on the younger children, gently correcting their misbehavior and herding them away from danger.
As a pastoral couple, my spouse and I have received blessing from her prayers. Our church family does mission 'with' Erika, as much as we advocate 'for' her and ensure that she is ministered 'to' through children's education and discipleship opportunities. Our church family wholeheartedly embraces and listens to Erika.
She is a fortunate child. She is healthy; she goes to school; she lives in a community that has clean water, transportation, medical care, a public library, low crime, and many other systemic supports. She has two stable parents and a loving Christian home. Although her family is experiencing financial stress while her father is in seminary, entering into that place of hardship is an intentional decision and a temporary situation. Erika offers us an image of a thriving child, fully welcomed into the family of faith, co-laboring with all generations in the mission of God.
Children-at-Risk and their place in the Kingdom of God
Yet, not all children are so blessed. Children face great risk in every region of the world:
- children live in extreme poverty;
- children are affected by conflict, violence, and abuse;
- children are swept up in the refugee crisis;
- children are trafficked and prostituted;
- and others face combinations of these and other daunting risks.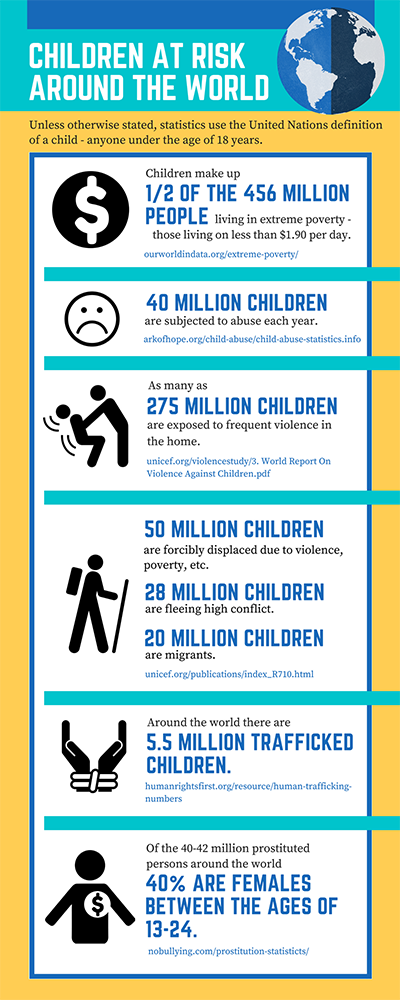 Children at risk. / Lausanne Movement
Although hundreds of millions of children face risks, each one is much more than a victim or a tragic label. Each child in our broken and messy world is a multi-faceted human being, created in God's image, endowed with spiritual gifts—a child who can meaningfully participate as a co-laborer in church and mission. The global church is taking notice and rising up to address seriously the importance of children, particularly children-at-risk.
Lausanne Forum
Risks that negatively impact children and their place in the kingdom of God were among the issues addressed at the Second Lausanne Forum on Children-at-risk (CAR) held at Lancaster Bible Institute in Lancaster, Pennsylvania, May 14-17, 2017. The CAR Issue Group gathered 74 specially invited academics, church leaders, theologians, missiologists, practitioners, and representatives from child-focused non-governmental organizations to craft action plans for mobilizing the global church to address issues facing children-at-risk around the world.
We recognize that the move toward action is challenging. It is much easier to talk and write about issues than to mobilize the global church; yet, the CAR Issue Group is dedicated to fulfilment of two of the mandates of the 2010 Lausanne Cape Town Commitment regarding children:[i]
1. to train people and provide resources to meet the needs of children worldwide; and
2. to expose, resist and take action against all abuse of children.
To prepare for the gathering in Lancaster and to ensure that our work was theologically grounded, participants responded to two major documents: The Quito Call to Action for Children-at-Risk,[ii] and Lausanne Occasional Paper 66: Mission with Children-at-Risk.[iii] Both documents, produced out of the 2014 Lausanne Consultation on Children-at-Risk, call for the global church to develop collaborative plans emphasizing and acting on mission to, for, and with children-at-risk.
In keeping with the CAR Issue Group's commitment to child participation in discourse that impacts their lives, we wanted to hear from children-at-risk about what it means for children-at-risk to thrive. Because we could not bring children into our midst during the forum due to ethical constraints, each participant was asked to conduct a listening exercise with children in their ministry contexts so that we could hear their reflections and view their artwork depicting what human flourishing looks like for them. This was a deeply significant and moving experience for those who eagerly shared children's drawings and writings for analysis and display at the conference venue. Participants were constantly reminded of children's capabilities and insights, as well as the importance of including their perspectives in action planning.
Each day a time of heartfelt worship and intentional prayer for children-at-risk was followed by meaningful biblical engagement with particular focus on mission with children-at-risk, an area where participants believe the global church to be less proficient. Plenary presentations during the first day reflected upon the Lausanne Occasional Paper from the perspectives of practitioners, theologians, and organizations. Several speakers, who were former children-at-risk, recounted powerful stories of transformed lives as families, churches, and ministries gave greater attention to mission to, for, and with children-at-risk.
The second and third days of the forum focused on working together in the five designated action groups, where each participant committed to taking on personally the tasks necessary for enacting plans. Children-at-risk were at the forefront of all discussions, as groups demonstrated a high value for their input and acknowledged their God-given creativity and wisdom as they developed concrete action steps to address the pressing issues that affect children.
Outcomes
Group 1—Advocacy to the church for children in refugee communities (children on the move): The group plans strategically to educate the church about the perspectives of refugee children by collecting the first-person stories of children through art and interviews. They intend to focus particularly on children with refugee status, and include others 'on the move' as well, producing a prayer guide and book for church use.
Group 2—Amplifying children's voices: The group is developing a toolkit to be used to help adults in any local church setting to learn to listen to children's input more effectively. The kit will be coupled with a plan for enhanced intergenerational models for being the church.
Group 3 - Multiplying training programs: The team proposed three important initiatives—creating a platform to share resources between schools and other training organizations; improving communication between seminaries and practitioners; and, finding fruitful materials to translate into local languages.
Group 4 - Regional Lausanne forums: The group will convene conversations regarding best practices for mission with children-at-risk with the goals of educating and inspiring churches in every part of the world for mobilization and collaborative action, starting in the Philippines and East Africa.
Group 5 - Reimagining the children-at-risk paradigm: The group started by sharing life and ministry experiences that caused them to question whether thriving should better be conceived as helping children discover meaning and purpose in their lives. They also recognized the importance of further theological reflection on mission limitations, humility, and failure as ways to better acknowledge how sometimes even our best efforts do not result in the transformation of children's lives. The group plans to publish theological reflections about these concerns as one part of their action plan.
The forum has achieved an important milestone for the Lausanne Children-at-risk Issue Network in moving from talk to action. Las Newman, Lausanne Global Associate Director for Regions, noted the unusually high level of camaraderie, collaborative spirit, and passion of the forum attendees. We are blessed to gather some of the most influential and committed servant leaders in God's kingdom working in collaborative partnership with one another, from different parts of the world and across generations, to see God's heart and purpose unfold in the lives of his precious children in difficult circumstances. We look forward to seeing what each action group accomplishes in the coming year.
The call to minister to, for and with children-at-risk
The church is uniquely positioned to minister to, for, and with children-at-risk because it is present almost everywhere in the world. What changes would need to take place for the church to take seriously the call to minister to, for, and with children-at-risk?
- Leadership, from the local church level up through institutional structures, can embrace a high view of children and Scripture so that policies and documents reflect the whole of Scripture, regarding children as fully included in the church.
- Pastors and church leaders can be offered tools that value children-at-risk, not simply as recipients of service, but as co-agents of mission. Formal and non-formal education are necessary to train pastors to transform thinking about children-at-risk in churches.
- Churches can examine ways in which they value or de-value children within their own church practices. For example, are children participating in worship, or are they sent away to a separate space for the entire service? Are children participating only in the pews, or are they helping to lead singing, take offerings, say prayers, share testimonies, or in other ways?
- We can examine how the church intentionally engages in ministry to, for, and with children-at-risk within its community, city, and beyond. How might we be a prophetic voice speaking out on behalf of these children and their families? Are there ways that they might participate with us in ministry?
- Ministry budgets can be analyzed to determine how much money is allotted to ministry with children and youth, and specifically, children-at-risk. What does your budget say about what you value?
- Theologies that have sustained and justified violence against children or an attitude that they are somehow 'lesser than' adults must be reconsidered. How might church-sanctioned harsh punishment, extreme shaming for 'sinful' behaviors, or unrealistic expectations for maturity or perfection perpetuate violence and injustice toward children?
- We must learn how to identify 'appropriate participation' of children, especially in evangelism and social action ministries. We must avoid anything that manipulates, exploits, or coerces children to participate based on adult agendas. Clear child protection and participation policies will help the church minimize risks of exploitation or spiritual abuse.
Now is the time to act! We call the global church to pray for us as we continue to seek God's wisdom in our work together on behalf of the children-at-risk among us. In addition, we ask others to join us on mission to, for, and with children-at-risk, empowering them to flourish and express their God-given gifts and co-participation in the Missio Dei.
Michelle Sheba Tolentino is Catalyst for the Lausanne Children-at-Risk Issue Network. In 2011, she co-founded Made In Hope, a non-profit organization that provides educational and work opportunities to women who have been exploited in modern slavery (human trafficking and prostitution) and prevention of child sex-trafficking in the Philippines. Michelle also serves as Broadcaster and Producer for 'Okiddo: The 4/14 Kids Show,' a weekly radio broadcast for children and youth (Far Eastern Broadcasting Company, Philippines) that reaches 500,000 listeners. It was awarded a Golden Dove Award in 2015 by the Broadcasters Association of the Philippines. She also travels internationally to speak as an advocate for women and children-at-risk.
Susan Hayes Greener, PhD, is Catalyst for the Lausanne Children-at-Risk Issue Network and currently serves as Associate Professor of Intercultural Studies at Wheaton College Graduate School. She has worked in human development for over two decades in universities and NGOs, including Trinity Evangelical Divinity School, One Child Matters, Compassion International, Early Head Start, and Yale University. Susan has trained Christian workers from over 50 countries and authored works on children-at-risk and global human development topics, including co-authoring Effective Intercultural Communication: A Christian Perspective (Baker Academic, 2014) and co-editing a special issue on children-at-risk for Transformation (Summer, 2016).
This article originally appeared in the September 2017 issue of the Lausanne Global Analysis and is published here with permission as part of the LGA Media Partnership. Learn more about this flagship publication from the Lausanne Movement at www.lausanne.org/lga.
---
---
[EB1]Dave Bennett told me to pass this on: "Please note the infographic (in two formats) that accompanies the article."