Since 2 January, the Central Asian nation of Kazakhstan has experienced some of its most significant turmoil and violent unrest since achieving independence from the Soviet Union in 1991.
However, amid these troubles, hope shines through.
Trans World Radio (TWR) is beaming out uplifting gospel-centered programs that can be heard via medium-wave (AM) signal without skipping a beat.
Power shortages, nationwide internet blackouts, blockages of mobile phone services, and social media suspensions highlight the strategic relevance of radio.
Fourteen different program series with a total of more than 21 hours of content per week are being broadcast to young and old across Kazakhstan. They have been translated and produced by Kazakh speakers and into other regional languages.
TWR seeks to be the voice of a friend who is also there in times of need so that the seeds of the Good News of Jesus Christ can be planted and grow.
For the past two years, TWR's teams in Central Asia have been diligently distributing radios, players, and SD cards with our programs.
Now, as the citizens of Kazakhstan have not had access to the internet for close to a week, there is still the possibility of listening to the hope of the gospel through these radios that have been dispersed throughout the country.
A letter from a sister: "Greetings to you, people of God. I am very glad God acts through you. I am a Christian; I like to praise God. My family is against my faith in Jesus, I cannot go to the church, and nobody visits me. I hear God's Word through your radio program and glorify Him. Be blessed in Him."
A listener responded recently by sharing with TWR: "Hello, I received the radio. You have no idea what a gift you gave me. Thank you very much. I am so glad; I cannot even hold my tears. Thanks."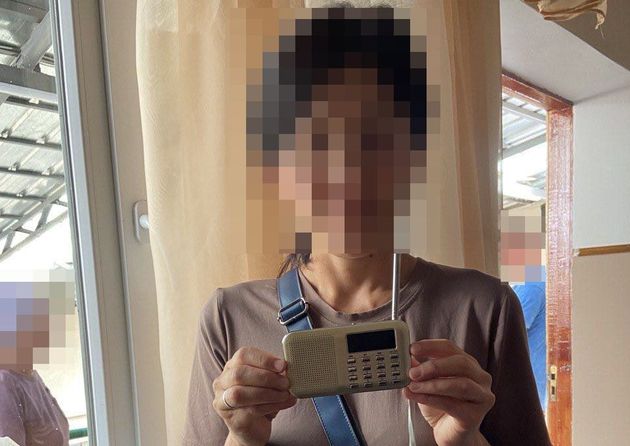 [photo_footer] This lady is a local listener to TWR's programs. She also represents the many people in Kazakhstan who have suffered from the tension and hardships of the past weeks. TWR seeks to speak hope to the Kazakh people during these times and beyond. / TWR. [/photo_footer]
A testimony: We were in one city visiting our brothers and sisters, and in the evening, the owner of the house invited his relatives. We communicated and our brothers preached the gospel to them.
There was one young man among them, when everyone left, he stayed and listened to the Word of God, and when they offered for him to accept Jesus as his Lord and Savior, he said he would think about it.
I then remembered the program: Now is the Time to Make a Decision. I told him about this topic, after the story, they again asked, "Well, still thinking about it?" He immediately replied that he had already thought about it and accepted Jesus into his life, repented of his sins, and became a believer.
Another listener asked: "Can I share these programs with others? I have friends who live in the villages; I want them to know about Jesus too."
As obstacles for holding religious events away from state-registered places of worship appear to be increasing, the availability of radio programs is very significant.
For numerous Protestant churches and groups, gospel content through radio may well be one of the few reliable sources of responding to questions by seekers and nurturing the faith of local believers.
The scope of TWR's diverse programs to Kazakhstan can be found here.
After days of uncertainty with the communication connections being unstable, TWR's ministry director for Central Asia gratefully shared that the local friends of TWR are all safe and doing well, given the circumstances.
He added: "Please also join us in praying to the Lord for stability and peace to return to Kazakhstan soon".
Becky C. Matthews has served as a volunteer writer and editor for TWR Europe and CAMENA since 2013.
Please visit our websites in English and local Central Asian languages.