Last August, 22, the streets of San Jose, in Costa Rica, were filled by a "white wave", during the March for Jesus organised by the evangelical churches of the country, which gathered hundreds of thousands of people (more than 600,000, according to the organisation),in the capital of the Central American country.
"More than a thousand pastors were contacted, and they said they came with their churches. The truth is that everything went beyond our expectations", commented pastor Guyon Massey, the general coordinator of the march.
"The role of the youth was fantastic too, a lot of colour, joy and enthusiasm", he added.
The aim was to declare peace over Costa Rica and claim for the well-being of the family. "We bless this nation. There is nothing impossible for God, I believe great things could happen, if God´s people stay together, extraordinary things", affirmed pastor Roberto Sánchez.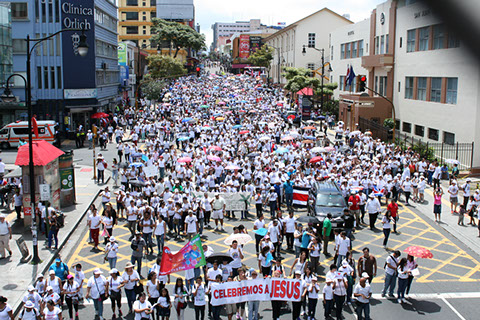 We celebrate Jesus, one of the messages. / Maranata
"We are delighted with what God is doing in this land of revival. And if the church prays and search God, I believe darkness will leave this country", he also said.
Many Catholics joined the march. Angel San Casimiro, Secretary of the Episcopal Conference, believed that the importance of the name of Jesus lies in holding to ethical and moral values.
"I wish this message would reach the politicians who make the laws, where everything starts. Politicians should open their eyes, those who are against life and think they are the owners of it and can finish with it whenever they want. The owner of life is God, and it must be respected", the catholic bishop explained.
HISTORICAL MARCH
Christian deputy Gonzalo Ramirez defined the march as "miraculous", and agreed with Casimiro: "we have so much to give to this country, and we should do it from all the fronts of our society."
"I think that many in power positions will not be able to look to the other side, and will have to understand that in Costa Rica God is still an important value for many", he concluded.
A festive atmosphere. / Maranata
PRAYING FOR THE COUNTRY
"This is the first time in Costa Rica that a religious march surpasses the half million people", commented Roger Murillo to Maranata Christian newspaper.
The march took place in a festive atmosphere, and there wasn´t any incident. "The beauty of this march -added Murillo- lies on the fact that it was not a march against anybody, or to defend any law, but just a peaceful proclamation of joy for the King of kings, and the Lord of lords, Jesus, and the participants understood it."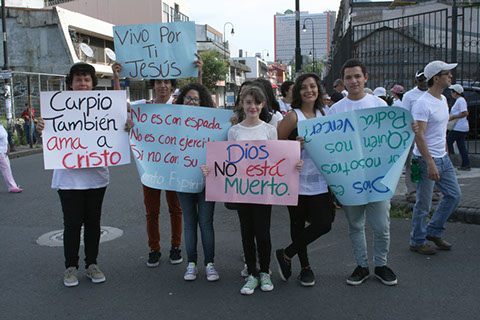 Youth was so active during the march. / Maranata
Finally, Murillo emphasised that "there was a spiritual intention of making this march a claim to God for stopping the violence, murdererings, and child and women abuse, that Costa Rica is suffering."
"That is why Catholics and evangelicals joined from Democracia Square to Metropolitano La Sabana Park, a fragrant odour, acclaim, a prayer, a message, a plea, so that God could look at this country with mercy and love."