After beating and parading Pastor Raj Singh along with four other Christians in eastern India, Hindu extremists were tonsuring them to further ridicule them when one cut the pastor's head.
"While shaving my head, the razor cut my skull, and blood oozed out", Pastor Singh said of the Sept. 16 attack in Jharkhand state. "A man standing nearby pointed out the cut and asked the man shaving my head to be careful, to which he promptly answered back saying, 'This Christian should be grateful that I am only using the razor on his head and not on his neck'".
After shaving their heads, the mob tied garlands of old shoes and slippers around their necks and continued parading them from one area of Bherikudar village, in Simdega District, to another.
The Hindu extremists told them to chant "Jai Shri Ram [Victory to god Ram]" and, when the Christians did not comply, beat them with wooden sticks, he said.
"Some of us chanted, to escape the beating from time to time Whoever did not chant was immediately beaten by sticks. They also had long wooden handles of large iron picks with which they hit us", Pastor Singh said.
Accusing them of eating and smuggling beef in the Hindu-majority country where both activities are illegal, the mob of 60 to 70 people had initially attacked seven Christians in the village, but two managed to escape, he said.
The 37-year-old pastor was sitting in his courtyard at 6 a.m. when the Hindu extremists entered from all directions and asked if he had converted from Hinduism to Christianity, he said.
While the other six men targeted that day had converted from native tribal religion, the pastor had previously been a Hindu. Upon confirming his conversion, the mob used obscene language as they accused him of being a traitor.
"They said: 'You have defamed the Hindu name by becoming Christian', while they were criticizing and cursing me in foul language, one of them said to another, 'Why are you speaking so much – drag him out and chop him to pieces'".
They dragged the pastor out and began assaulting him while chanting Hindu slogans, he said.
"They pounced on me from every direction and beat me up with their hands, feet and wooden sticks. My wife Roseline tried to stop the attackers from hitting me, but in the process, she was beaten and molested by the mob. She was also hit on her back and sustained internal injury".
When his brother-in-law, Deepak Kullu, returned from a store, he was shocked to see the crowd, and before he learned what was happening, the mob began beating him. They then entered the houses of other Christians, dragging out the male members and assaulting them.
Singh told Morning Star News the attack was evidently well-planned, as the assailants knew their names and where they lived.
When his wife asked the assailants to call the police if they had any grievances against the Christians, one of them responded, "We are the law, and we will do what we have been toldThey told my wife that they had been instructed to kill me".
When she asked them who instructed them, the assailants told them the names of two district leaders of the Bhartiya Janata Party (BJP), the pastor said.
Tonsured and paraded
From Bherikudar village's Ambera area, where 23 of 24 families are Christian, the mob dragged them to the adjacent Kumhar area of the village. "Taking us to Kumhar, they partially tonsured our heads in a haphazard manner to make us an object of ridicule and to shame us", Pastor Singh said.
The mob shouted, "If you cut the cow, we will cut you" as they paraded the Christians.
After parading them in the Kumhar, Mahato, Lohra, Girija, Sarna and Bahari areas, the mob brought them to the Bagicha area and called police to allege that they had caught the Christians smuggling cow meat.
Police arrived and immediately took the Christians into custody, but when officers went to their homes, they found no evidence of the accusation. "The police even checked our refrigerator, expecting to find cooked cow meat, but found nothing", Pastor Singh said.
Pastor Rajesh Bage, head of the Eternal Light Foundation Ministry Church that Pastor Singh and his family attend, said the allegations of slaughtering a cow, cooking it, eating it and smuggling the meat all fell flat after finding no evidence in any area Christians' homes.
Police then arrested three of the assailants and took them to the Simdega police station five miles from Bherikudar village. The injured Christians were forced to remain at the police station from 9:30 a.m. until 7 p.m. without first aid.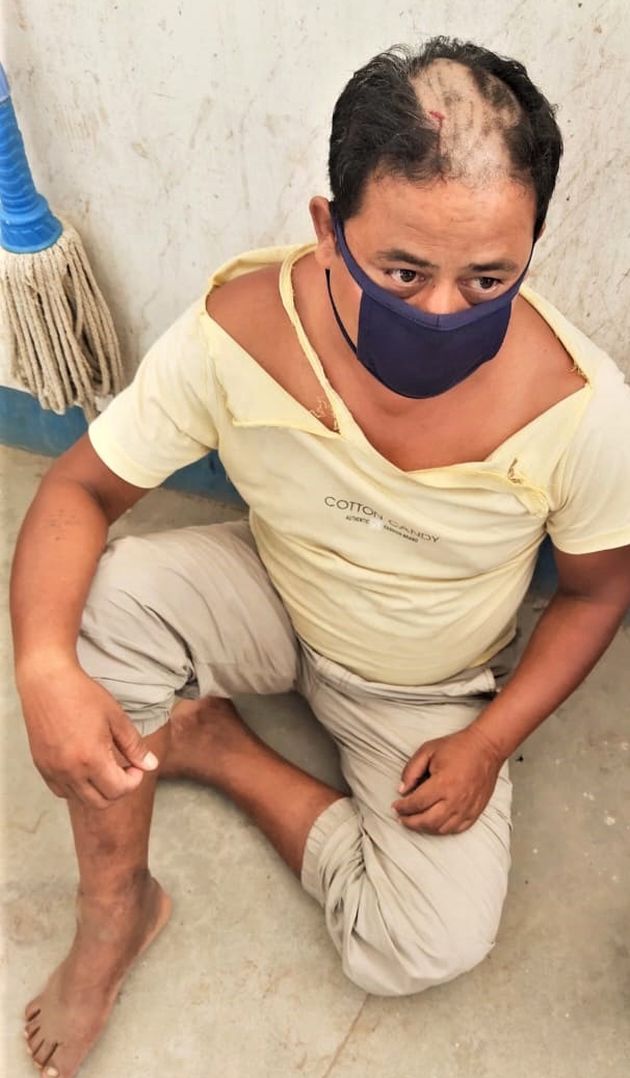 [photo_footer]Pastor Raj Singh. / Morning Star News.[/photo_footer]
"We were all hurting from the beating, but the police hardly noticed us. I was beaten up the most. I was hurt on my knees, chest, back, stomach and had the blade cut on my head. We only got some medical attention after we reached home late in the evening. We were too tired to go to the hospital, so we just came home and took herbal treatment".
The head of the police station later visited the Christians and only then learned what had happened to them, he said.
While the Christians were still in custody, Pastor Singh's wife filed a police complaint against the assailants, nine named and 10 unidentified. A First Information Report (FIR) was registered on Sept. 16 for wrongful restraint (Section 341 of the Indian Penal Code), voluntarily causing hurt (323), assault or criminal force to a woman with intent to disrobe, (354-B), house-trespass after preparation for hurt, assault or wrong­ful restraint (452), intentional insult with intent to provoke breach of the peace (504), criminal intimidation (506) and acts done by several persons in furtherance of common intention (34).
Under the Scheduled Caste Act, the FIR also mentions provisions against parading persons in ways derogatory to human dignity, against falsely accusing persons and against assault or use of force on any woman belonging to a Scheduled Caste or a Scheduled Tribe with intent to dishonor or outrage her modesty.
After the complaint was registered, police went to the village to investigate, released the Christians that evening and kept the three detained from the mob into custody. Another assailant reportedly surrendered on Sept. 22, while another was reportedly arrested from Ranchi on Sept. 28.
Christians on Sept. 29 heard unconfirmed reports that assailants who had not been arrested were planning to kill the five Christians and then surrender themselves to the police.
"We do not know how true this is, but we informed the police, and they were here to meet us and investigate the matter on Sept. 30", Pastor Singh said.
Traumatized
Since the Sep. 16 assault, area Christians in groups of five have taken turns watching over their hamlet till 2 a.m. so their families can sleep with some measure of peace.
"We are all fear-struck, especially our families.We are worried as to how long can we guard our area like this? This is no solution to avoid attacks".
Singh's four children, ages 15, 12, 9 and 2, all witnessed the assault and are in a state of shock, he said. "My 2-year-old daughter saw everything. She is traumatized. So far we had only heard about these things. We had never witnessed it, and now it has happened to us. It is scary".
Pastor Singh, who began following Christ in 2016, was born to a high-caste Hindu family, and hence his testimony has a powerful effect on others. "I have a small job, but what I really like and do is spreading the gospel of Christ and praying for people".
Viral allegation
A day before the attack, a video clip of a man alleging that Christians in the Ambera area had killed a cow went viral locally, sources said.
"The attackers had planned the attack and had distributed the video widely in the area using WhatsApp and other social media tools. This played a major role in the formation of a mob and conditioned the minds of the villagers against the small Christian community", Pastor Bage told Morning Star News.
While members of the Bajrang Dal were suspected in the attack, the convenor of the Hindu extremist group denied involvement, telling media that the assailants came from a new Hindu nationalist group called Jai Bhawani Sangathan, meaning "Victory to Bhawani". a Hindu goddess.
Christians are increasingly targeted throughout Jharkhand as the Hindu extremist Rashtriya Swayamsevak Sangh (RSS) and its affiliates have stepped up opposition to Christians, who have been present in the state's tribal areas for more than 200 years.
The RSS has infiltrated tribal communities and indoctrinated them against Christians, thus fracturing tribal society that had co-existed peacefully with the church even after it grew in tribal areas, said the Rev. Vijayesh Lal, general secretary of Evangelical Fellowship of India (EFI).
Tribal groups in Jharkhand and in other tribal areas of India are now demanding withdrawal of tribal benefits to Christian tribals, Lal said.
"Only recently the Jharkhand Adivasi Sarna Vikas Samiti [a Sarna Tribal body], met the former chief minister, Babulal Marandi, and submitted a petition demanding that Christian tribals must be barred from receiving benefits reserved for tribals, and also tribal women who marry non-tribals must not be allowed to seek tribal benefits as well," he said. "There are already demands for a Sarna [tribal religion] code bill and a campaign against the presence of the church in the state."
"Fanatics have changed their strategy. In the past they used violence and other means to persecute the people of God, but now they are trying to get them to renounce their faith. They are threatening them with social boycotts and with exclusion and creating circumstances, so that the benefits which lawfully belong to the Christians are taken away from them", Franklin Sudhakar, president of advocacy group Passion for the Persecuted, told Morning Star News.
Lal added that that although "cow protectors" mainly target Muslims, they have killed at least three Christians in Jharkhand state. The EFI recorded more than 195 cases of anti-Christian activity the first nine months of this year.
India is ranked 10th on Christian organization Open Doors' 2020 World Watch List of the countries where it is most difficult to be a Christian. The country was 31st in 2013, but its position has been worse each year since Narendra Modi of the Bharatiya Janata Party came to power in 2014.