The proposed anti-conversion laws could be a serious threat to the religious freedom in Nepal, according to some experts.
In April 2008, the Hindu monarchy was abolished and Nepal was declared a secular republic.
The first Constituent Assembly (CA) of Nepal, was in charge of creating "a political system that fully complies with universally accepted fundamental human rights", but the political parties were unable to agree on the new constitution until after the earthquakes in April and May 2015.
However, on 8 June 2015 the four main parties agreed an outline plan for the Constitution, which was expedited to produce a final draft by the beginning of July.
NEPALESE CONSTITUTION DRAFT
The proposed constitution includes a clause that states: "…no one shall attempt to change or convert someone from one religion to another, or disturb/jeopardise the religion of others, and such acts/activities shall be punishable by law."
Christian Solidarity Worldwide (CSW) has warned that this wording could mean religious freedom for Nepalese citizens would be "severely curtailed".
"It fails to allow for choosing and changing one's faith to be seen as a positive individual choice or as a matter of individual rights", CSW said in a briefing. The release branded the draft clauses "inconsistent with the international Human Rights framework."
According to CSW, this legislation could also misinterpreted as "anyone who talks about their faith to someone of a different religion could be accused of attempted conversion, and punished by law."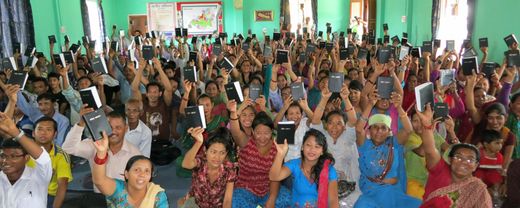 Nepalese Christians holding their Bibles / NCM
"This endangers two internationally guaranteed fundamental rights of every individual: firstly the right to enjoy full freedom of expression, and secondly the right to follow a religion of his or her own choice and to manifest that religion in word and action", the release states.
Five states in neighbouring India currently have anti-conversion laws. The regulation stated that those who wish to convert to another religion must first gain official permission.
Religious leaders are also required by law to report conversions or risk a three-year jail sentence themselves, prompting calls for greater freedom for minority faith groups.
"The freedom to choose and change one's faith is a fundamental right which must be upheld as an essential part of any constitution which adheres to international human rights principles," CSW chief executive Mervyn Thomas said.
"Nepal is a state party to the International Covenant on Civil and Political Rights (ICCPR), which guarantees the right to freedom of thought, conscience and religion, including the freedom to have or to adopt a religion or belief of his or her choice", Thomas added.
CHRISTIAN REACTIONS
Christian organisations all over the world helped after the earthquake which killed more than 2,300 people, injured 6,000 and destroyed thousands of homes. Now, many associations and individuals have already raised their voices against the new Constitution.
Lokmani Dhakal, one of the four Christians in Nepal's 601-member Constituent Assembly, reiterated the same concerns when he addressed a gathering of 60 Christian leaders at an ecumenical conference in Kathmandu on 6 July. "Without freedom to speak about one's faith, what is the meaning of religious freedom?", he argued.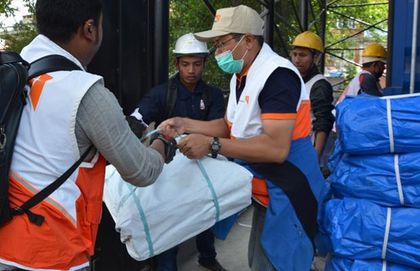 Christian churches and organisations helped during the earthquake / imb.org
"We want secularism to be institutionalized in such a way that it is an unchangeable provision in the new constitution. We want the Constitution to ensure religious rights and form a religious commission," said C. B. Gahatraj, General Secretary of the National Federation of Christians.
Meanwhile, Muslim leaders have also raised serious objections and have protested a draft of a long-delayed republican Constitution for failing to honour pledges made by previous governments to protect their rights.
On the contrary, Nepal's pro-Hindu Rastriya Prajatantra Party-Nepal, the fourth largest party in the parliament is demanding that the constitution declare Nepal a Hindu nation.
Officially, there are at least a million Muslims in Nepal and 300,000 Christians, though Christian groups say the population could be as much as 2.5 million.