A church pastor and more than 70 other Christians were killed by gunmen in Plateau state last month.
Since April 25th, there have been many terrorists' attacks and murderers in that region of Nigeria, which have left many deaths on the way.
"The jihadists, in their quest to eliminate Christians in Plateau state and their thirst for blood, have succeeded in killing Christians and burning their houses", told Gyang, (whose full name is withheld for his protection) Morning Star News in a text message on Monday.
"They are right now attacking Rim, Bangai, Gwon, Wereng, Ringya and Sopp", he added, and explained to the newspaper how the attacks happened.
Gyang recalled that on April 30th, , two Christians who were returning from a burial were killed in an ambush in Barkin Ladi the previous day, and "four other Christians were also killed in Kwi, in the Riyom Local Government Area (LGA)."
Following those attacks, there was one on May 2nd, when Rev. Luka Gwom of the Church of Christ in Nations (COCIN) in the town of Foron, died, along with 27 other Christians.
In two other attacks in the area that day, 17 Christians were killed in Vat village and 13 other Christians were slain in Zakupang. The victims included women and children.
On May 11th, Muslim herdsmen also launched attacks, with seven Christians dead.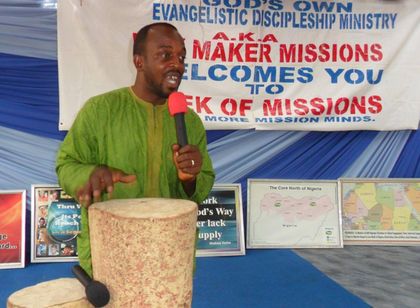 Pastor Joshua Adah was murdered by Muslim Fulani extremists last January
FAITHFUL DESPITE THE ATTACKS
"I was at Rim yesterday for a burial when a large number well-armed Fulanis came to attack the village; this led to the killing of two of our community members on the farm", Gyang said.
He lamented that "Riyom and Barkin Ladi LGAs have been under siege and invasion. Lives have been lost almost every day, and [there is] no serious action from any quarter by the government". But "we are still faithful to our Lord and Savior Jesus Christ", he commented.
CONTINUOUS ATTACKS

"Fulani Herdsmen have continued with their invasion of Christian communities here", Gyang reported. "Six Christians have also been killed in Kwi, Torok, and Rim, five Christians in the attack on Shonong village, and two in Rim village", he told Morning Star.
Emmanuel Loman, chairman of the Barkin Ladi Local Government Council, confirmed the killings in Barkin Ladi. He called on the Nigerian government to take urgent security measures to curtail attacks by the herdsmen.
Church leaders said attacks on Christian communities by the herdsmen constitute a war "by Islam to eliminate Christianity" in Nigeria. Christians make up 51.3 percent of Nigeria's population of 158.2 million, while Muslims account for 45 percent and live mainly in the north.