The Region North of Brazil has now more population that identifies with evangelical Christianity than with Roman Catholicism.
According to a survey conducted by Datafolha, 46% are evangelical Christians and 45% Roman Catholic. According to the research institute, this trend worries the Vatican, because it confirms the fall of Catholicism in the last 25 years in the largest country of South America.
Around 25 million people live in the Region North, which includes the states of: Amazonas, Pará, Amapá, Acre, Tocantins, Roraima and Rondonia. In 2014, some months after the visit of Pope Francis to Rio de Janeiro, evangelical Christians were only 38% of the population in the region. Five years later, they have become the biggest faith group.
These major religious shifts in Brazil and other countries are one major issue of debate during the recent Synod of Latin American bishops in Rome.
BRAZIL STILL CATHOLIC
On a national scale, Catholics continue to be a majority (51%) compared to evangelicals (32%). The biggest non-Catholic churches in Brazil are Assemblies of God and the prosperity gospel group Universal Church of The Kingdom of God.
The leadership of several major evangelical denominations have expressed their support for Brazil's President Jair Bolsonaro, who has promised to nominate an evangelical for the vacancy of the Federal Supreme Court (the highest court in the country).
THE EVANGELICAL CHURCHES IN THE AMAZON
The most present evangelical denomination in the region is Assemblies of God. Swedish and US preachers were the ones who first established an evangelical community in Belém in 1901 (the capital city of Pará and second largest in the Amazonia region).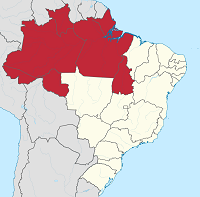 The Region North of Brazil. / Tubs (Wikipedia, CC)
Analysts say Brazilian and foreign missionaries developed their work in the Amazon rainforest region in the 60s while Catholic masses were still being held in Latin.
"The Catholic Church did not take the evangelical growth seriously, there probably was even some kind of arrogance back then, but today they are very worried", says French anthropologist Veronique Boyer, author of the book Evangelical Expansion and migrations in the Brazilian Amazon.
The Brazilian newspaper Folha de Sao Paulo quotes the President of the confederation of Assemblies of God in Brazil, Pastor Samuel Cámara, a well-known television preacher and brother of the leader of the evangelical caucus in the national parliament, Silas Cámara. "We do not have headquarters nor a centralised organism, and even native movements belong to the Assemblies of God", he said in reference to the indigenous Xicrin, who offer worship services in mebemgokre, one of the tribal languages.