The return to normal life in Sri Lanka after the Easter attacks, in which more than 290 people lost their lives, is being an expensive and slow process.
After the attacks, hostilities against Muslim communities on the island have increased, in a context where social tension has been driven by the decline in tourism, one of the main resources of the local economy.
"These acts of violence have led to tourism being at a worse level than during the years of the conflict", Shalini Wickramasuriya, an elder at the Presbyterian St Andrew's Scots Kirk church in Colombo, told Christian Today .
According to Wickramasuriya, "the tourism bans of the European nations, the US and China have now been lifted, and tourism is slowly recovering but not significantly".
"The informal sector appears to struggle more; small time car hire people, tuk tuk drivers, small hotels and businesses. They are hardest hit", she added.
"THERE IS STILL FEAR"
In adition to the difficult recovery of tourism, the insecurity is still present, and "there is still an element of fear and we see police officers present at the church every Sunday", Wickramasuriya pointed out.
After the terrorist attacks, a wave of hostilities against the Muslim community across the island began.
Then, the National Christian Evangelical Alliance of Sri Lanka (NCEASL) published a statement expressing a "deep sadness for the attacks".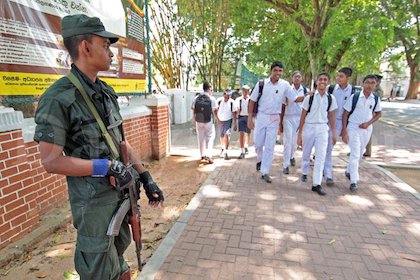 There are still police officers outside the churches every Sunday. / Twitter @Dailymirror_SL
The NCEASL released a statement, asking the population to "overcome the hatred, fear and suspicion of others and make an effort of compassion and love to understand, reconcile and move forward together as a nation".
"TENSIONS BETWEEN BUDDHISTS AND MUSLIMS"
However, the hostilities remain persistent, Wickramasuriya told Christian Today, with businesses burnt and "ethnic and religious tensions between the Buddhists and Muslims".
"Muslims are being falsely accused, randomly arrested and victimised, leaving scope for a revival of sorts, but Christians will not be the target as the victimisation is being carried out by Buddhist extremists", he added.
Wickramasuriya belived that "what is alarming is the anti-Muslim hatred propagated by Sinhala Buddhist extremists, and this has caused the international community to issue warnings of possible violence and human rights violations".
A BRIDGE TO RECONCILIATION
In a population of more than 21 million people, about 68% are Buddhist, so that the attacks against Christian churches last Easter, have highlighted the urgency of reconciliation on the island.
"We do hope that desperation does not lead to other acts of violence as people look for scapegoats", Wickramasuriya said.
The Presbyterian elder pointed out that "we need to take an active role in reaching out to the Muslim community, to show that we were in solidarity with the majority Muslims who were by no means connected with those who committed the acts of violence".
"The role of the church continues to be measured, building bridges and not judging the mainstream Muslims", she concluded.