Several Latin American organizations and ministries are calling Christians worldwide to join in prayer for Venezuela next Sunday, March 17.
Through social media, the organizers are asking individuals and churches to have an hour of intercession in favor of the Venezuelan people.
They "want all the nations of the world to pray for the beloved and beautiful nation of Venezuela" , said Pastor Rony Chaves from Costa Rica.
"Please, spread this call, share it with every minister and in every place, so that we massively intercede the intercession before God for the freedom and blessing of Venezuela and its dear families", Chaves added.
WORLDWIDE CAMPAIGN
At the same time, Pastor Jorge Luis Soto, another of the organizers, commented to the Costa Rican news website, Periodico Maranata, that it is not fair for Venezuela to continue suffering, while the church worldwide is concerned, feeling powerless.
The campaign to call for prayer for Venezuela is being issued in Spanish, English, Portuguese, German, Italian, Mandarin, French, Korean, and Russian, among other languages.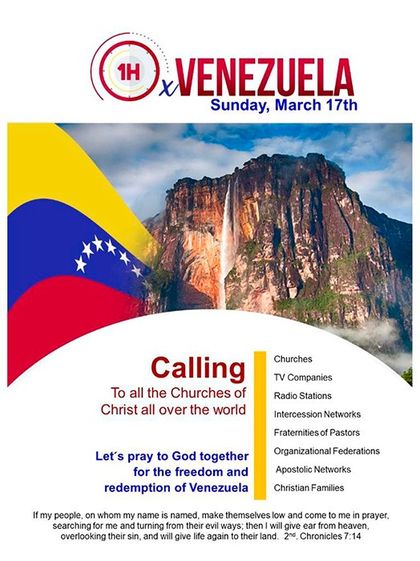 Poster of the praying campaign./ Evangelico Digital.
It is opened to churches, media, networks of intercession, fraternities of pastors, federations, apostolic networks and Christian families.
BIGGEST BLACKOUT IN THE HISTORY OF VENEZUELA
The socio-political crisis in Venezuela has worsened in the last days, whith the biggest blackout in the history of the country.
During four days, Venezuelan cities remained without electricity, and President Juan Guaidó has denounced that more than 15 people died in hospitals, as medical equipment stopped working due to lack of electricity.
VENEZUELANS IN BARRANQUILLA PRAY FOR THEIR COUNTRY
In Barranquilla, Colombia, a group of Venezuelan migrants held a vigil to pray for the serious situation of their country. From 6:00 pm, on March 11, many people gathered in front of the María Reina de Barranquilla Cathedral, to start a prayer and support chain of solidarity.
With candles in their hands, wearing the tricolor cap and dressed in white, the Venezuelans asked for the cessation of evil and hatred and for the freedom of Venezuela, which is experiencing its worst political, social and economic crisis of its history.
"We came here to be united as one family. It is not easy to emigrate and be alone in another country. Thank God my sister was able to turn on and off the phone's battery and I was always able to communicate with her", said Sonia Colina, a Venezuelan migrant.