Eritrea made history in July as the long-awaited peace agreement with neighbouring Ethiopia was announced.
"We have been praying for this for a long time", a Protestant leader in Eritrea said. The end of the state of war should lead to more social and financial stability, but many Eritrean Christian also hope to see the end to the restrictions on religious freedom.
"The persecution of Christians began after the war", the Eritrean source told Evangelical Focus four weeks ago. "Once the peace agreement is reached, we believe that things will go back to how they are supposed to be".
The early signs, nonetheless, are not encouraging. According to the BBC, security agents are hunting down Pentecostal Christians who attended an informal sermon given by a Ethiopian preacher in Asmara, Eritrea's capital city.
Preacher Surafiel Demssie took the first flight of the Ethiopian Airlines to Eritrea after the 20 years of conflict, to visit a group of evangelicals in the country. At least five of those who welcomed the Pentecostal evangelist have been arrested, the BBC reports, and several others have gone into hiding.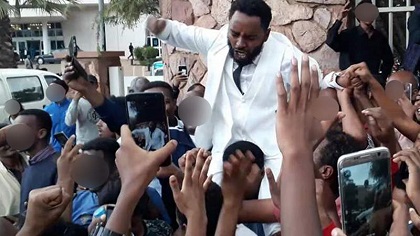 Preacher Surafiel Demssie gave an informal sermon on a street in Asmara. / BBC
A relative of one of the arrested said: "At first the police said they were arrested for blocking a road and would be released soon". But later it was known that he had been arrested by the National Security Agency.
"We were hoping there would be changes in Eritrea too, but so far we have been disappointed", said Kesete Beraki, who advocates for the release of those in detention.
The government banned Pentecostal churches in 2002 and several evangelical leaders have been detained incommunicado for more than a decade.
Eritrea ranked 6th in the 2018 Open Doors World Watch List of the countries where it is most difficult to be a Christian. The persecution in the country is "extreme", according to this Christian organisation.
Thousands of Eritreans have crossed the Mediterranean in the last years to seek asylum in European countries.