A 6.9 magnitude earthquake in the tourist island of Lombok has killed at least 98 people, Indonesian authorities reported this Monday. More than 200 has been injured.
The death toll is expected to rise, as rescuers are yet to reach some areas. Rescue efforts have been hampered by power outages, broken bridges and a lack of phone reception in some areas.
The tragedy has come exactly a week after the region was hit by a 6.4 magnitude quake, that left at least 16 people dead and 162 injured.
NORTHERN LOMBOK
According to the Meteorology, Climatology and Geophysics Agency (BMKG), the earthquake was felt at 7:46 p.m. local time, with an epicentre located in northern Lombok, a more residential, less developed part of the island.
That has been the worst hit area, where at least 72 people were killed and 64 were injured.
The quake followed two quakes that occurred earlier on Sunday, a 5.6-magnitude one on the Mentawai Islands, West Sumatra, and a 5.2 one on the island of Flores, East Nusa Tenggara.
"Tsunami waves did hit the coast, but only at a height of 9 to 13 centimetres. The waves didn't cause damage or casualties", National Disaster Mitigation Agency (BNPB) spokesman Sutopo Purwo Nugroho said in a statement on Sunday.
According to Sutopo, the majority of those killed in the quake were hit by falling debris from collapsing buildings.
In total, an estimated 20,000 people have been displaced by the massive earthquake, Nugroho explained.
DIFFICULT EVACUATION
The BNPB said it was working together with the Indonesian Military (TNI), the National Police, the National Search and Rescue Agency (Basarnas) and several ministries and non-governmental organizations for its emergency response.
"The focus is currently on searching for, rescuing and aiding residents that were affected by the earthquake and fulfilling their basic needs", Sutopo pointed out in a press conference on Monday.
So far, up to 2,700 tourists have been moved from the Gili Islands, and Lombok's airport is now open 24 hours, significantly increasing its flight schedule.
"We cannot evacuate all of them all at once because we don't have enough capacity on the boats", Muhammad Faozal, of West Nusa Tenggara's tourism agency, told AFP.
"It's understandable they want to leave the Gilis, they are panicking".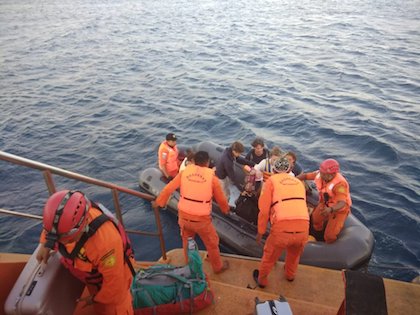 The evacuation is being really difficult. / Twitter Sutopo Purwo Nugroho
AT LEAST 2 DIED IN BALI
Across the island, residents and tourists were advised to stay outside, with many choosing to sleep in the streets and public areas away from large buildings. Hospital patients were wheeled outside because of fear of aftershocks.
Electricity supply in the worst-affected areas has been cut off and telecommunication networks are not working.
The earthquake was also felt in neighbouring Bali, another popular tourist spot. According to BNPB, two people have died there.
RING OF FIRE
Indonesia is prone to earthquakes because it lies on the Ring of Fire - the line of frequent quakes and volcanic eruptions that circles virtually the entire Pacific rim.
More than half of the world's active volcanoes above sea level are part of the ring.