Rescue divers in northern Thailand have saved the 12 boys, members of a football team and their coach, from flooded caves.
The risky diving operation spread over three days, and finished 17 days after they got trapped underground.
Aged between 11 and 17, the players of the Wild Boars football team had entered the Tham Luang cave system in the province of Chiang Rai on June 23, during an excursion with their coach.
After spending nine days in the cave with little food or light, the children were discovered on Monday 2 July.
An experienced former Thai navy diver, who was part of a team trying to supply the boys' cave with oxygen tanks, died during the rescue.
VERY DIFFICULT RESCUE
At first, rescuers wanted to keep the group supplied underground until the end of the rainy season, but with the forecast of heavy rains, and the risk of water levels rising, the operation to bring them out was launched on Sunday, 8 July.
That first day, four children were brought out and taken to the hospital. Four more were rescued the next day, and the operation finished on July 10, when the 4 boys left and their coach were safe.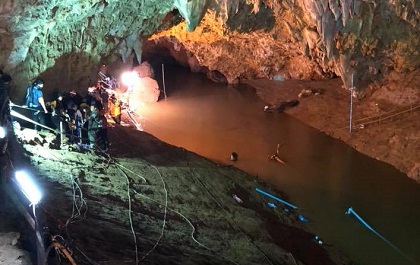 The rescue in the cave. / Facebook Prayut Chan O Cha
In total, 18 divers participated in the rescue, in turns of two for each child. They were divided in groups of three people: a diver in front, a minor, and another diver behind, who have traveled together the 4 kilometers away from the cave.
Each boy was given a full face mask and an anti-anxiety medication to prevent them panicking as they were brought out. The divers guided them through the dark using ropes.
All 13 are now in hospital in Chiang Rai city and receiving medical and psychological assistance, but recovering well.
A CHRISTIAN AMONG THE RESCUED CHILDREN
Adul is one of the boys rescued, he is 14 and speaks Thai, Burmese, Chinese and English, so that he talked with the British divers when the group was first discovered.
Adul was born in Myanmar's self-governing Wa State, and his parents are Christian. He left his family to get a better education in northern Thailand.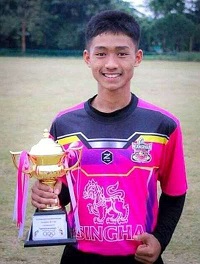 Adul with his team strip.
The boy's parents asked the pastor of a Thai Baptist church and his wife to care of him, The New York Times reported, and they usually visit him at the Christian church. Adul is also a Compassion International beneficiary.
"Thank you to God who helps us to see our son very soon. We are so happy to hear that our son is out of the cave and to welcome him home. It's the love that God gives to our family. God is great love and there's nothing He can't do", Adul parents told the Christian children's charity.
400,000 STATELESS
Wa State, a self-ruled region not recognised internationally, nor even by Myanmar, is not allowed to legally issue passports.
Adul is among more than 400,000 people who are registered as stateless in Thailand, according to the UN High Commissioner for Refugees (UNHCR) - though some estimates put their numbers at 3.5 million.
"While some progress has been made, stateless people in Thailand continue to face challenges accessing their basic rights", UNHCR spokesman Hannah Macdonald told AFP.
With no birth certificate, no ID card and no passport, Adul cannot legally marry, get a job or bank account, travel, own property or vote.
Thailand has vowed to register all stateless people by 2024, but until then people like him remain stuck in legal limbo.