US President Donald Trump and North Korean leader Kim Jong Un met this Tuesday in Singapore for the first time.
After briefly shaking hands and taking a photo together, they moved to another room, where they sat and made brief statements for the press.
"We're going to have a great discussion and, I think, tremendous success. It will be tremendously successful. And it's my honor", Trump said.
Kim Jong Un pointed out that, "it was not easy to get here. The past worked as fetters on our limbs, and the old prejudices and practices worked as obstacles on our way forward. But we overcame all of them, and we are here today".
KIM: "THE WORLD WILL SEE A MAJOR CHANGE"
After five hours of talks, first alone, only accompanied by their translators, and afterwards along with some of their advisers in a a working lunch, both leaders signed a joint statement in a televised ceremony.
Through a translator, Kim said it had been a "historic meeting" and that the two leaders had "decided to leave the past behind".
"We are about to sign a historic document. The world will see a major change. I would like to express my gratitude to President Trump to make this meeting happen", he added.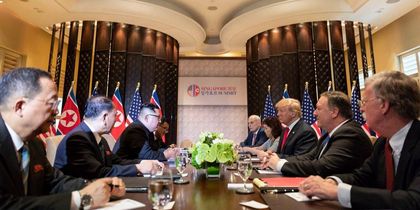 Trump, Kim Jong Un and their advisors in the luch meeting. / Donald J. Trump Facebook.
"COMPLETE DESNUCLEARIZATION OF THE KOREA PENINSULA"
In the statement, Kim Jong Un "reaffirmed his firm and unwavering commitment to complete denuclearization of the Korean Peninsula". Meanwhile, Trump "committed to provide security guarantees to North Korea".
The US "will be stopping the war games which will save us a tremendous amount of money, plus I think it is very provocative", the US President said in a press conference later.
"FOLLOW-UP NEGOCIATIONS"
According to the statement, both parts "commit to hold follow-on negotiations, led by the US Secretary of State, Mike Pompeo, and a relevant high-level North Korean official, at the earliest possible date, to implement the outcomes of the summit".
Additionally, Trump and Kim Jong Un will "cooperate for the development of new US-North Korea relations and for the promotion of peace, prosperity, and the security of the Korean Peninsula and of the world".
A GOOD AGREEMENT?
Many experts believe that the statement does not go much further than previous ones by North Korea, it lacks substance, in particular on how denuclearisation would be achieved, and it does not include any timetable or verification measures.
TRUMP: "THE PAST DOES NOT HAVE TO DEFINE THE FUTURE"
However, speaking to reporters in a press conference after the summit, Trump said that "the past does not have to define our future", and confirmed that Kim had offered to destroy a "major missile engine testing site".
The US President explained that the North Korean leader had agreed to denuclearisation being "verified", a key US demand ahead of the meeting.
When asked if Kim had agreed to denuclearise, he replied: "We're starting that process very quickly. Very, very quickly. Absolutely."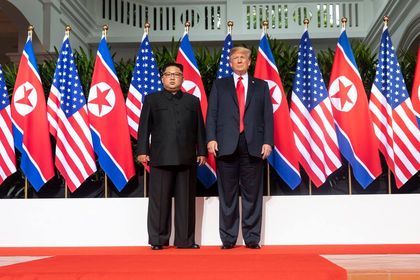 Both leaders after signing the statement. / Donald J. Trump Facebook
Trump also confirmed that sanctions would remain in place for now, arguing that they "haven't given up anything".
Regarding his impressions about Kim, the President said: "Well, he is very talented. Anybody that takes over a situation like he did at 26 years of age and is able to run it and run it tough. I don't say he was nice".
"THINGS WILL BE HAPPENING FOR CHRISTIANS"
During the press conference after the historic agreement,Trump was asked if the fate of Christians was involved in the talks with the North Korean leader.
"It will be worked on Christians, yes. We brought it up. Franklin Graham spent and spends a tremendous amount of time in North Korea. He has it close to his heart. It did come up and things will be happening. Great question."
The statement only mentioned briefly the situation of those prisoners that still remain in North Korea, whose Human Rights have been violated many times, stating that both countries will "commit to recovering POW/MIA (prisoner of war/missing in action) remains, including the immediate repatriation of those already identified".
ASIAN COUNTRIES REACTIONS
South Korean President Moon Jae-in, who held his own meeting with Mr Kim earlier this year, said the "two Koreas and US will write new history of peace and co-operation".
A spokesman, though, also said the "exact meaning and intention" of what Mr Trump had said "needs to be assessed".
China, North Korea's only major diplomatic and economic ally, also said the meeting created a "new history". The foreign ministry said sanctions on North Korea could be eased if it stuck to UN resolutions.
Japanese Prime Minister Shinzo Abe praised President Trump's "leadership and effort", saying he supported North Korea's pledge on denuclearisation as "a step towards the comprehensive resolution of issues around North Korea".