At least 17 people were killed when a 19-year-old gunman opened fire with an assault-style rifle at Marjory Stoneman Douglas High School in Parkland, north of Miami on Wednesday.
He also injured more than a dozen others. Officers identified him as Nikolas Cruz, who had attended the school prior to being expelled for disciplinary reasons,
Staff and students told local media that the assailant wore a gas mask as he stalked into the school carrying a rifle, ammunition cartridges and smoke grenade, and the shooting started shortly before dismissal at school, around 2.30pm-local time.
He pulled a fire alarm, prompting students to head into hallways before teachers herded them back into classrooms, to seek shelter in closets.
Twelve of the dead were killed inside the school, two others just outside, one more on the street and two other victims died of their injuries at a hospital, Broward County Sheriff Scott Israel said at a news briefing hours later.
The gunman was arrested later outside, some distance from the school in an adjacent community and taken into custody.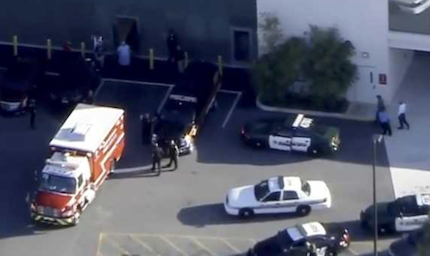 Police and paramedics at the cime scene. / CNN Live
"PRAY FOR THIS CITY"
"My prayers and condolences to the families of the victims of the terrible Florida shooting. No child, teacher or anyone else should ever feel unsafe in an American school.", U.S. President Donald Trump said on Twitter.
"A child of God is dead", said former FBI agent, Phil Mudd, in an interview with CNN.
"Cannot we acknowledge in this country that we cannot accept this? Just pray for this city; pray for this school, the parents, the folks that lost their lives", he added.
18 SHOOTINGS IN US SCHOOLS SO FAR IN 2018
It was the 18th shooting in a U.S. school so far this year, according to gun control group Everytown For Gun Safety.
That tally includes suicides and incidents when no one was injured, as well as the January shooting in which a 15-year-old gunman killed two fellow students at a Benton, Kentucky, high school. Although not all the shootings ended with fatalities, since 2013 there were almost 300 attacks in schools in the country, resulting in an average close to one per week.
Not only schools are victims of shootings. Last November, a young white man killed 26 people in an attack against an evangelical church in Sutherland Springs (Texas), and a 64-year-old gunman fired against a big crowd attending a Country festival in Las Vegas, killing 59 and injuring 527 people on October 1, 2017.