UN Security Council members called for further sanctions against North Korea on Monday, during the emergency meeting in New York, which was was requested by the United States, Japan, France, Britain and South Korea.
Scheduled after North Korea said it detonated a hydrogen bomb underground Sunday, the emergency session comes six days after the council strongly condemned Pyongyang's "outrageous" launch of a ballistic missile over Japan.
Less than a month ago, the council imposed its stiffest sanctions so far on the reclusive nation.
"STRONGEST DIPLOMATIC MEASURES"
U.S. Ambassador Nikki Haley said North Korea's relentless actions show that its leader, Kim Jong Un, is "begging for war", and the time has come for the council to adopt "the strongest diplomatic measures."
"Enough is enough. War is never something the United States wants. We don't want it now. But our country's patience is not unlimited", Haley added.
She also rejected as "insulting" a Chinese proposal for a freeze on North Korea's nuclear and missile programs in exchange for a suspension of US-South Korean annual military drills.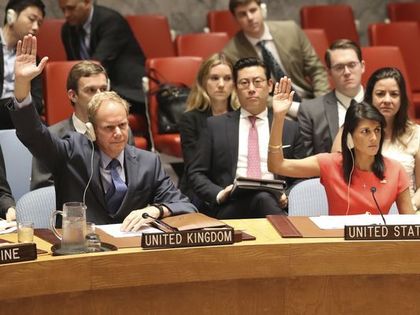 Tke UK and USA UN Ambassadors voting during the meeting. / Reuters
Haley said the US would circulate a new draft UN Security Council resolution, to be voted on next Monday.
"The United States will look at every country that does business with North Korea as a country that is giving aid to their reckless and dangerous nuclear intentions", she concluded.
THE UK, FRANCE, ITALY AND JAPAN AGREES ON FURTHER SANCTIONS
Japan, France, Italy and Britain reiterated demands for the regime to halt its ballistic missile and nuclear weapons programs, and urged further sanctions.
"Dialogue will always be our end goal but returning to dialogue without a serious sign of intent from Pyongyang would be a set-up to failure. North Korea must change course to allow a return to dialogue", British ambassador to the UN, Matthew Rycroft, said.
"Pyongyang poses a clear threat to international peace and security" pointed out Sebastiano Cardi, the U.N. ambassador from Italy. He noted that North Korea is the only country to have tested a nuclear device in the 21st century.
French Ambassador, Francois Delattre, said France was calling "for the adoption of new UN sanctions, swift implementation of existing ones and new separate sanctions by the European Union."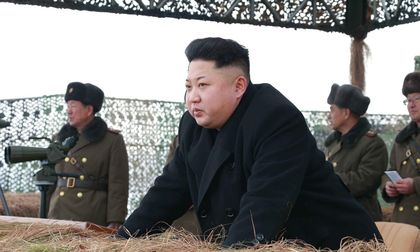 Kim Jong Un.
CHINA AND RUSSIA: DIPLOMATIC TALKS
China and Russia called for diplomatic talks with North Korea to address the threat from its missile and nuclear tests.
"The peninsula issue must be resolved peacefully. China will never allow chaos and war on the peninsula", declared Chinese ambassador Liu Jieyi.
Russian ambassador Vassily Nebenzia said there was "an urgent need to maintain a cool head and refrain from any action that could further escalate tensions".
MOST POWERFUL TEST TO DAY
North Korea's nuclear test on Sunday was the most powerful one to date. The US Geological Survey recorded a resulting tremor at 6.3 magnitude.
Earlier on Monday, a South Korean defence ministry official said there were signs of "possibly more ballistic missile launches", including an ICBM (intercontinental ballistic missile .
South Korea carried out live-fire exercises on Monday, simulating an attack on the North's nuclear test site.