"I sincerely hope that this will be the last Manipur", said Reem Alsalem, United Nations Special Rapporteur on Violence against Women and Girls, at a side event on the human rights crisis in Manipur state (northeast India) on 19 September at the United Nations in Geneva (Switzerland).
Alsalem and three other experts spoke passionately about the violence that has plagued Manipur, as well as recent violence against Muslims in Haryana and Gurugram states in northern India.
Held on the margins of the Human Rights Council session, the event was organised by the World Evangelical Alliance (WEA) in partnership with a multi-faith coalition representing Christian, Muslim and Hindu organizations. In just four days, the video of the panel discussion received 20,000 visits.
50,000 displaces, 200 churches damaged
The event began with a video presentation by Nury Turkel, Commissioner at the U.S. Commission on International Religious Freedom (USCIRF). He described the scope of the crisis in Manipur: 50,000 people displaced, nearly 200 deaths, numerous instances of sexual violence against women, and over 200 churches and two synagogues burned or damaged.
Turkel stated that hate speech has been used to justify widespread atrocities and that the Indian government has sought to control public discourse on the situation by filing criminal charges against four journalists who reported on the events in Manipur. As a result, USCIRF has recommended that the U.S. State Department identify India as a Country of Particular Concern.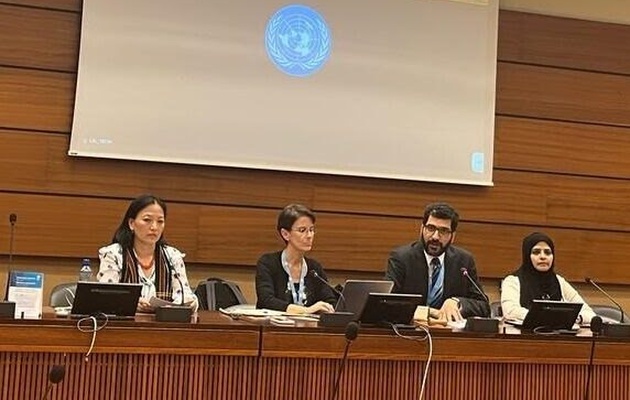 [photo_footer] Florence N. Lowe (North American Manipur Tribal Association, Reem Alsalem (UN Special Rapporteur on Violence against Women and Girls, Its Causes and Consequences), Wissam al-Saliby (Geneva Office, World Evangelical Alliance), Hena Zuberi (Advocacy for Justice for All). / Photo: WEA[/photo_footer]
Florence Lowe, founding president of the North American Manipur Tribal Association (NAMTA), shared heartbreaking stories of the suffering of tribes residing in Manipur, including her own family members. Even though 6,500 police complaints have been filed, Lowe explained, the government and police have yet to provide proper redress for the victims.
"Every single day", Lowe said, "I get madder and madder at the inaction and utter ineptitude of the Indian government" and at those who have failed to intervene.
Hindu religious leaders encourage genocide
Hena Zuberi, director of advocacy for Justice for All and co-chair of the India Working Group at the International Religious Freedom Roundtable, asserted that prominent Hindu religious leaders aligned with the government were openly calling for genocide against India's Muslims.
Zuberi stated that the attacks on Indian Muslims follow a typical pattern: hate speech arouses a mob prior to a religious procession into Muslim areas; Muslim residences are attacked as the police stand by without intervening; and Muslims are then blamed for the violence.
UN requests information from India's government
Finally, Special Rapporteur Alsalem described the attacks on women of all ages in Manipur. Describing the mob actions as constituting "war, subjugation, and punishment … on religious and ethnic grounds", Alsalem said that her office has requested information from India's government on the responses of law enforcement and the Indian justice system.
"These tragedies can be an opportunity to turn situations around and address underlying causes", Alsalem concluded.
Online criticism of WEA representative
The event, moderated by Wissam al-Saliby, director of the WEA's Geneva office, attracted some unexpected online posts in response, including a doctored version of the video and fabricated reports that al-Saliby had twice been arrested in India.
The Secretary General of the World Evangelical Alliance, Thomas Schirrmacher, who was traveling in Asia at the time, expressed his full support for al-Saliby, stating that Asians "are very much aware of what the WEA is doing in Geneva and how professionally our work is organised and presented."
[analysis]



[title] A multi-faith initiative [/title]



[text]The event was organised by the World Evangelical Alliance (NGO in consultative status with ECOSOC) in partnership with a multi-faith coalition that includes Open Doors International, Indian American Muslim Council, Hindus for Human Rights, Justice for All, the International Commission for Dalit Rights, and the North American Manipur Tribal Association. [/text]



[/analysis]