"We live in a global village and Africans understand the village life better- each person's problem is everyone's problem", said Aiah Foday-Khabenje, leader of the Association of Evangelicals in Africa to Evangelical Focus when asked about Western's weak reactions to the violence happening in Africa these days.
The eruption of violence in Nigeria, Niger and other African countries has brought back the debate about Islam in the continent. Population in the region fears the advance of Jihadist terrorism and pressure and Christians feel even more pressure after some of them have been killed and churches have been burnt down.
"It is with shock and dismay that we receive distress calls from church leaders in Niger, concerning attacks targeting Christians", said a statement of the Association of African Evangelicals a few days ago. "As this is happening, we continue to reel at the news coming out of Nigeria; killings of people and annihilation of entire villages and towns in Northern Nigeria by Boko Haram jihadists".
"WHERE ARE TRUE MUSLIMS?"
"We condemn these attacks and killings in the strongest terms possible", the text followed, and put forward some important questions: "Given the whole debate about the self-professed Islamic jihadist not being true Muslims, should the real Muslims not be circumspect in the way they vent out their anger; different from those who are supposedly claiming the Islamic religion falsely? Where then are the true Muslims?"
TAKING ACTION TO STOP VIOLENCE
Evangelical Focus contacted Aiah Foday-Khabenje, the general secretary of the Association of Evangelicals in Africa. He commented on the current situation in the following Q&A.
Question. You have asked both the African Union (AU) and the United Nations (UN) to act and stop the advance of Islamism. Have they acted boldly strong enough to stop the massacres?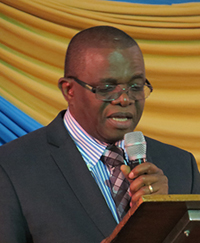 Aiah Foday-Khabenje.
Answer. I do not think so. The general trend for these (UN in particular) is rhetoric and no kind of action is attempted at the critical stage of conflict; when so much damage would have been done. Sometimes, UN's presence further escalates the conflict and there is hardly any peace to keep. The AU's ability is an issue and perhaps response, if any, is always slow and it would appear the African leaders are so used to conflict that they are insensitive when the people of Africa are in danger and life threatening situations.
Q. In the AEA statement about Niger and Nigeria there are profound good questions like the following: "How does killing another human and defiling another religion build peace in the world and honor own religion? In any case, what is the connection with Charlie Hebdo and the Christian church in Niger?" Do you think Muslims themselves will stand up against Boko Haram and other similar groups?
A. There are basic philosophical beliefs and value systems in every religion that adherents would die for. It is also true that the majority in every religion are not willing to die for anything.
What is it that can make people blow up themselves as in suicide bombings? And if a person can kill self, then of course, why not kill other people. Can we then deal with these basic beliefs, values and assumptions in a rational way and with our community? Resistance to talk about this and critically reassess the values is itself the danger. How do we win over other people as convert to our religion? Are we tolerant of others who believe differently?
CHRISTIANS IN AFRICA AND IN THE REST OF THE WORLD
Q. Have African Christians felt forgotten by the Western World?
A. We live in a global village and Africans understand the village life better- each person's problem is everyone's problem. The global village is synonymous to global Christianity. Like Africans, Christians should 'globalise' better. The one body of Christ, functioning in harmony with everyone else who is part of the body. To be our sister's keeper and break down walls of division as one people, one Father of all in the one faith.
Q. Finally, how can Christians in Europe and the rest of the world pray for Africa right now?
A. Pray for godly leadership in the nations (in church and in government). Pray for direction about how we can work in partnership/collaboration in Africa and Europe for the reign of Christ in our world. The AEA prays for the Church in Europe and desires to engage the Church in Europe, as the Christian influence fizzles out there. How can a dwindling Church in Europe but with vast resources partner with a fast growing Church but with less resources for mutual enrichment for the Kingdom of God in our world?