At least one Christian was killed, several injured and two church buildings attacked in central Nigeria's Niger state after a Facebook exchange resulted in a Muslim accusation of blasphemy, sources said to Morning Star News.
A Baptist pastor in Pandogari, where the Muslim mob attacks occurred on Sunday (May 29), told Morning Star News by telephone that a dusk-to-dawn curfew has been imposed on the town.
"One of our churches, Fellowship Baptist Church, has been burnt by the Muslims," said the pastor, who requested anonymity. "Another church too was vandalized and destroyed, and the Christian accused of blasphemy was killed."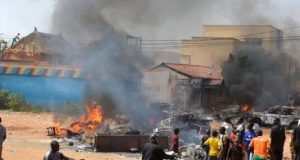 A building attacked during the riots in Pandogari. / PM News Nigeria
The Nigerian army identified the deceased as 24-year-old Methodus Chimaije Emmanuel, a trader in Pandogari, Rafi Local Government Area who was "attacked and killed by a mob in the town on allegation of posting a blasphemous statement about Prophet Muhammad on the social media."
VIOLENCE AGAINST SHOPS
A church building, a house and a shop were burned, and rioters blocked the Lagos-Kaduna Road, a major artery connecting the northern and southern parts of the country, army spokesman N.C. Agwu said in a press statement. On Monday (May 30) 25 other shops were looted, he said.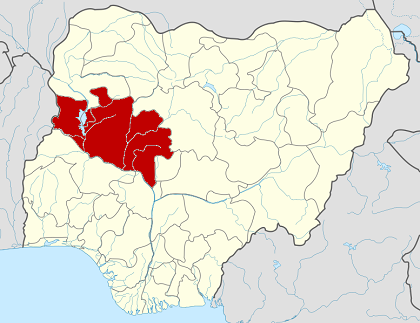 Niger state, in Nigeria. / Wikipedia
"Three other persons including a personnel of the NSCDC [Nigeria Security and Civil Defense Corps] also lost their lives," Agwu said.
Some arrests have been made in connection with the violence and the suspects handed over to the police, he added.
Asked how many church buildings were affected by the violence, the Baptist pastor told Morning Star News, "There are 10 churches in Pandogari, and out of these churches, one was burnt down and another destroyed."
DISCUSSION ON FACEBOOK
Another Baptist pastor in nearby Kagara town, identified only as the Rev. Daniel, told Morning Star News by phone that Facebook exchanges between a Muslim and Christian in Pandogari town triggered the attacks.
"The incident began with Facebook chats between a Muslim and Christian youth in the town," he said. "The Muslim youth mobilized other Muslims in the town on claims that the Christian youth had blasphemed the prophet Muhammad. The Muslims went to Fellowship Baptist Church along Alllawa Road, Pandogari, and burned down the church."
He said that two Christians were shot and injured on Sunday (May 29) in one area of town, and that there could be others wounded.
A woman identified only as Larai in Kagara town, 20 kilometers (12 miles) from Pandogari, told Morning Star News by phone that seven persons were shot and injured in the attacks in Pandogari.
"Pandogari is a no-go area as the situation is terribly bad," she said. "Christians are being attacked even as I speak to you now," she said on Monday morning (May 30).
Local people who spoke to Agence Press-France corroborated the account that the slain Emmanuel was a Christian killed by a mob for posting content on Facebook deemed to be blasphemous of Islam.
Nigerian military personnel are restricting movement in and out of the town.