In Chiapas (Mexico), the persecution of evangelical Christians continues. At least 350 believers of the 'Tzotzil' ethnic group left their village in the community of Mitzitón, in Chiapas, after they were attacked by Traditionalist Catholics, governmental sources informed.
According to the Mexican national newspaper El Universal, a group of the majoritarian Catholic group looted 84 houses and partially destroyed some of them.
4 DAYS OF ATTACKS
On the evening of May 12, about 150 people, lead by the rural agent S.J. and the president of the local commission J.G.H "used violence to force 11 people of a family (two of them being minors) to leave their housing", sources said. The alleged cause of the attack was disagreements on the use of land for sowing.
The following day, Friday May 13, the houses of other 2 families were destroyed by a group of about 250 people, some of them allegedly drunk.
The evangelical families had not cooperated in the festivities and had "not worked in the benefit of the community", the local leaders claimed.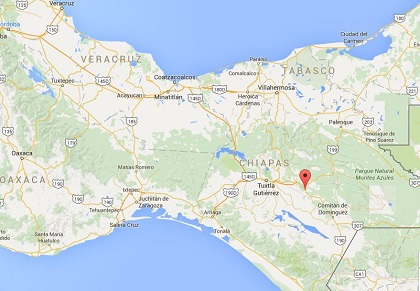 The region of Teopisca, in Chiapas (Mexico). / Google Maps
After the attacks, the families (men, women and children) stayed in the village waiting for the authorities to arrive to the place, but the Traditionalist Catholics required them to leave the place, threatening them with arrest and imprisonment.
On Sunday May 15, the number of looted and destroyed houses had risen to 84. The victims reported this situation to the District Attorney's Office of the Altos region.
The 350 evangelical Christians of the attacked families were temporarily relocated in the community of Betania, in the municipality of Teopisca.
A LONG CHAIN OF ATTACKS
Although Mexico protects the freedom of worship in its Constitution, in some of the southern regions of the country there are countinuous attacks against evangelical Christians. Most of these conflicts have in common the imposition of the Catholic celebrations on the non-Catholic groups.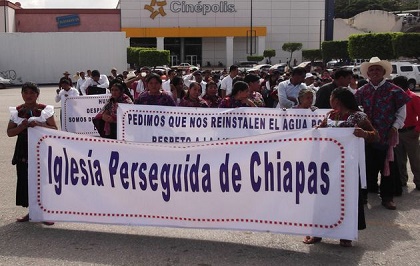 Evangelicals have demonstrated against persecution in Chiapas for years.
Evangelical Christians have been extorted, threatened and expelled from their homes and land.
Evangelical Focus has reported about several other cases of this type of religious persecution in Chiapas. One of the last attacks of this kind happened the day before Pope Francis visited Mexico. Other believers have been barred from water supply because of their faith. Houses have been burnt. These indigenous evangelical groups have been asking for the government to stop these attacks for years. but the hostilities continue.