In the Nevada caucus (last Tuesday), Donald Trump accomplished an overwhelming victory over his rivals, Marco Rubio and Ted Cruz.
He is now closer to become the republican candidate for the presidential election. Next week, Super Tuesday could give him an almost definitive victory.
Trump´s popularity is growing in the United States. His discourses have been full of forcefulness against immigrants, tough messages about security and terrorism and a contemptuous style against his opponents.
Juan Francisco Martínez, a professor at Fuller Theological Seminary in California, believes Trump's success does not follow "the normal criteria of a political process."
FRUSTRATED VOTERS IN BOTH PARTIES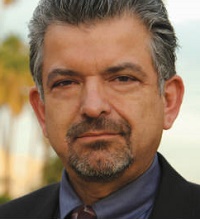 Juan Francisco Martínez.
"He has drawn the attention of many people frustrated with a system that has not helped them", Martínez states.
"It is easy to mock Trump for his crazy way of doing things, but we must take him seriously, just like we take right-wing anti-migration candidates in Europe", Martínez states.
There is also frustration among democrats, who see Bernie Sanders as a good competitor for Hillary Clinton.
"It is clear that in this elections there are many people frustrated with the parties and their agendas", Martínez adds.
Trump's options are getting bigger, according to the CNN political analyst, Mel Robbins: "The establishment doesn't like him because it can't control him. Yet he's the only conservative candidate who stands a chance against Hillary Clinton", she wrote in her CNN column.
THE 'EVANGELICAL VOTE'
During the caucuses, media have analyse the electorate defined as "evangelical", but they do not always use the term correctly.
"When the US media talks about the Republican 'evangelical vote', they are actually talking about the vote of the 'white evangelicals'", Martínez explains.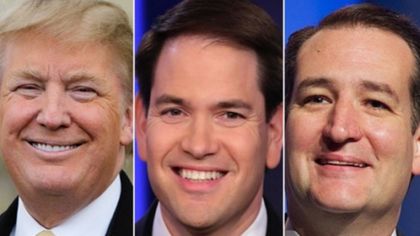 Republican candidates Trump, Rubio and Cruz.
"The majority of the African-American evangelicals are Democrats and support Hillary Clinton, and the 'Latino evangelical vote' tends to be divided between the two parties, depending on the candidate (in 2012, Obama got the 55% of the Latino evangelical vote)", he adds.
Martínez recalls that "there was a time when the white evangelicals were more united in their vote", but "it is not like that today."
BIBLE AND PERSONAL FAITH
Using personal faith or biblical knowledge are common strategies for American candidates: "Until today, every president has confessed his Christian faith and many have appealed to their faith as a part of their campaign", the professor explains.
However, that does not always mean they will receive the confidence of Christianse, because "Christian voters do not always look for a strong Christian faith in their candidate... In fact, many Christians question the faith and way of life of Donald Trump but will still vote for him for other reasons", Martínez comments.
SUPPORTS FROM ALL SIDES
Churches, ministries, universities and Christian media have become part of the electoral campaign, supporting the different candidates.
The Liberty University rector, Jerry Fallwell Jr, supported Donald Trump; a group of pastors in Nevada joined to support Ted Cruz, and evangelical leaders like Wayne Grudem or Samuel Rodriguez supported Marco Rubio.
Talking about the next elections, Martínez thinks that "'white evangelicals' will vote for the republican candidate, not matter who he is, and the African-American evangelical vote will go to Hillary Clinton if she is the candidate. It will be very interesting to see who they vote if Sanders is the candidate."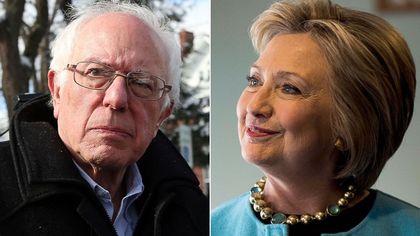 Democrats Bernie Sanders and Hillary Clinton.
Regarding the 'Latino evangelical vote', "some will automatically vote for the Republicans, but the majority is not sure yet", Martínez suspects the vote will go to those who have less "anti-Latino measures."
MIGRATION REFORM
Trump's anti-immigration proposals have been rejected by the Latino community, but there is also a electorate who supports him because of them.
"There is a strong anti-immigration reaction among some white population sectors, they feel threatened by the demographic changes the country is experiencing", the professor explains.
Meanwhile, "the majority of the evangelical leaders support the migration reform, but that debate is changing. We will see if they keep supporting a pro-immigrant proposal, the national debate could change the conversations in local churches", Martínez concludes.