The Corruption Perception Index, published by the Berlin-based group Transparency International (TI), ranks 168 countries on perceived corruption in the public sector using a number of surveys. Countries are then given scores from 0 to 100, with 100 being the "cleanest" and 0 being the most corrupt.
Sixty-eight per cent of countries worldwide have a serious corruption problem. Half of the G20 are among them. Not one single country, anywhere in the world, is corruption-free.
"The 2015 Corruption Perceptions Index clearly shows that corruption remains a blight around the world", José Ugaz, Chair of TI, said.
"But 2015 was also a year when people again took to the streets to protest corruption. People across the globe sent a strong signal to those in power: it is time to tackle grand corruption", he added.
DENMARK THE BEST, NORTH KOREA THE WORST
The 2015 results revealed that Denmark (91) came out on top for the second year running, and the other Nordic countries also did well; Finland (90) came second, Sweden (89) third, and Norway (87) tied for fifth.
Also in the top 5: New Zealand (88) at fourth, and the Netherlands (87) tied with Norway at fifth.
At the wrong end of the table, Somalia (8) and North Korea (8) came in tied for 167th (and last). War-torn states, such as Afghanistan (11), Sudan (12) and South Sudan (15) follow.
KEY CHARACTERISTICS
Top performers share key characteristics. High levels of press freedom, access to budget information, high levels of integrity among people in power, and judiciaries that don't differentiate between rich and poor and that are truly independent from other parts of government.
In addition to conflict and war, all the lowest ranked countries have poor governance, weak public institutions like police and the judiciary, which don't respond to citizens' needs, and a lack of independence in the media.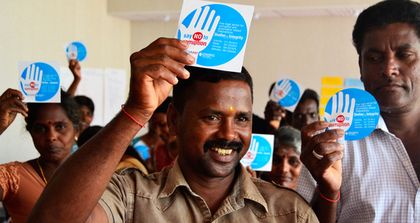 Protesters against corruption in Sri Lanka. / TI
"CORRUPTION CAN BE BEATEN WORKING TOGETHER"
Some countries have improved in recent years – Greece, Senegal and the UK are among those that have seen a significant increase in scores since 2012.
The big decliners in the past 4 years include Australia, Brazil, Libya, Spain and Turkey.
Brazil was the biggest decliner in the index, falling 5 points and dropping 7 positions to a rank of 76. Experts believe tat the result could be attributed to the unfolding Petrobras scandal which brought people onto the streets in 2015.
"Corruption can be beaten if we work together. To stamp out the abuse of power, bribery and shed light on secret deals, citizens must together tell their governments they have had enough", Ugaz stated.
EUROPE: A LOT OF WORK TO DO
The index shows that 20 of the 28 EU countries improved their score in the last year. Six countries — Hungary, Bulgaria, Spain, Cyprus, Luxembourg and Denmark — saw their scores decline in 2015 compared to 2014. Portugal and Latvia received the same score as last year.
"Very worrying is the marked deterioration in countries like Hungary, FYR of Macedonia, Spain and Turkey where we're seeing corruption grow, while civil society space and democracy shrink", Anne Koch, Director of TI for Europe and Central Asia argued.
"Corruption won't be tackled until laws and regulations are put into action and civil society and the media are genuinely free", she concluded.
SPAIN DROPS, GREECE IMPROVES
Over the last four years, Spain's score fell most sharply than any other EU country, dropping by 10.8% since 2012, while Greece improved its position by almost 28 percent and has jumped 31 places in four years.
Experts say Madrid's 10 percent plunge (from 65 to 58 points) in the index is linked to the financial crisis and subsequent austerity measures.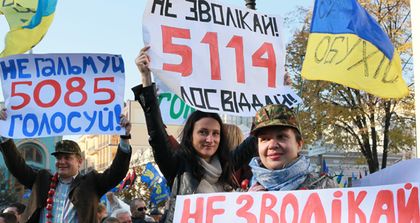 Corruption demostration in Ukraine. / TI
Carl Dolan, director of TI's EU office told Euronews: "I think what is interesting about those revelations is that it shows how systemic and how all aspects of governance in Spain has been hit by these scandals.
Meanwhile, Greece has been the most improved EU state, leaping 27.78 points. It jumped from 36 in 2012 to 46 last year.
This might suggest the financial crisis has not had the same negative effect it has seemingly had in Spain. However, Mr Dolan was cautious: "I think we should put this in context. Greece is routinely the worst-performing EU member state in our Corruption Perceptions Index."
Other European countries with significant improvements are the Czech Republic and Slovakia.
On the other hand, "Hungary does seem to be bucking the trend. What you're seeing in Hungary is that the independent institutions of the state, like the media, like the courts, have been brought under the control of one political party", Dolan explained.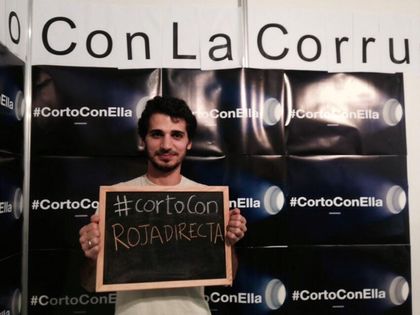 Spain GBU (IFES) students promoting #CortoConElla campaign
DENOUNCING AND FIGHTING CORRUPTION
This year Transparency International is calling on all people to take action by voting at unmaskthecorrupt.org. They want to know which cases the public most believe merit urgent attention to send a message, so that they will take a stand against grand corruption.
But not only big international associations are fighting against corruption, ordinary citizens all around the world are tired of corruption cases.
CHRISTIAN ACTION IN SPAIN
At the beginning of October, a group of evangelical Christian Spanish students and young graduates propelled an initiative through which they publicly commit to "break up" with any form of corruption.
In the blog of "Corto con Ella", the organisers provide alternatives to use open free software for word processing, spreadsheets, presentations, design, or editing photographs, among others; and are open to receive new ideas.
There are also articles with testimonies of people who have decided to "break up" with corruption, and explain what difference does it make in their day to day life.