Tanzanian President John Magufuli died on 17 March at the age of 61, but the controversy surrounding his figure continues.
Even the state funeral was not free of a great controversy, after at least 45 people died in a human stampede among the tens of thousands of citizens who attended the wake at the Uhuru Stadium in Dar es Salaam.
After being absent from public appearances for a few days, the Tanzanian government announced the president's death on 17 March due to heart problems.
However, Tindu Lissu, the parliamentary opposition leader said that he had "information from basically the same sources which told me Magufuli was gravely ill, and had been dead for days".
The government has maintained the official version and has already handed over the presidency to Samia Suluhu Hassan, who was Magufuli's vicepresident.
Controversial coronavirus measures
In the last months, Magufuli had been repeatedly singled out in the international press as a Covid-19 denier and for taking health recommendations lightly.
The international press also accused Magufuli of having expelled representatives of the World Health Organisation (WHO) from the country, and of not having confined the population.
A controversy that has been fuelled by some of the President's statements, such as when in May 2020 he assured that "the corona disease has been eliminated thanks to God" and said he was "considering three more days of thanksgiving, where Tanzanians would thank God for delivering them well in the country's fight against Covid-19".
Meanwhile, the WHO claimed that the Tanzanian government had stopped counting cases of infection and deaths, and the African Centre for Disease Control warned that they had carried out a negligible number of tests for a population of 56 million people.
"The government says that anyone who talks will be punished, so we cannot diagnose Covid-19 and must write 'severe pneumonia'", a Tanzanian nurse recently explained to the Spanish newspaper La Vanguardia.
Religion and Covid-19 measures
Due to Magufuli's measures and declarations, some of the international press also denounced that there was a link between religion and the denialist attitude in the country.
However, representatives of the Tanzania Fellowship of Evangelical Students (TAFES), a member of IFES, point out that "President Magufuli didn't deny the Covid-19 pandemic. His response was to prevent panic by advocating reliance on God and prayer and the use of traditional remedies".
According to the missionary and pastor of the Dodoma Reformed Baptist Church, Simon Patilo, "Magufuli has not violated all the WHO guidelines", but "he has questioned with doubts the way WHO handled this pandemic".
"He was concerned about the efficiency of the testing kits and masks imported from China and USA", Patilo explains, but "he asked people to follow precautions, like wearing local masks, using hand sanitizer, queuing up for social and public services, without forgetting the traditional ways to stay away from the spread and effects of the coronavirus".
Patilo believes that Magufuli was against the lockdown because "many Tanzanians are poor, they have to work to provide for their families and there were no enough money to give them so that they don't die of hunger. The rate of people dying of hunger in Africa it is estimated to be very higher than the people dying of Covid-19".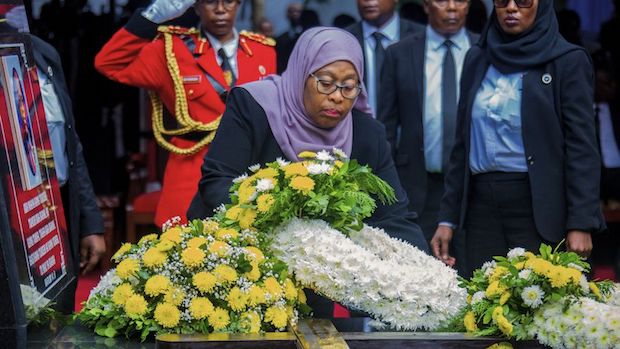 [photo_footer] The new president of Tanzania, Samia Suluhu Hassan, at Magufuli's wake. / Twitter @RadioPuntoGT [/photo_footer]
A fight against corruption
President Samia Suluhu Hassan decreed three weeks of official mourning, but she has already begun to work on her policy proposal, which is expected to be more moderate.
One of her first measures has been to set up an advisory committee to tackle the virus. "This is the time to stand together and get connected. It's time to bury our differences, show love to one another and look forward with confidence", she said in her acceptance speech.
"Everyone is waiting to see whether [Samia Suluhu Hassan] will maintain the forward momentum for which Magufuli was famous. He was a controversial figure so that some people are hoping that the new President will bring the country together, but are not sure how this can be done while maintaining Magufuli's anti-corruption stance", TAFES representatives point out.
Patilo stresses that "the anti-corruption approach Magufuli was acclaimed for when he won his first election in 2015, has not changed until his death".
"Many Christians are mourning his loss"
"Magufuli stood against all corruption and some started to hate him because of it. That ended up also affecting churches, Catholic and others, where members were not giving enough, because other financial lines were cut off by the president", he adds.
Furthermore, "many church leaders were abusing the tax exception policy for the religious institutions, using the platform to do their thing. Many cars were imported in the name of the churches and were sold without the consent of the church. Some church leaders were involved in corruption and even drug abuses".
The Baptist pastor believes that "Magufuli's leadership did no cause any hindrance to public worship of all religions. He gave us freedom to worship and preach the gospel to our nation and beyond".
Both TAFES representatives and Patilo agree that "Magufuli has been widely recognised for his love for his people, especially the ordinary citizen", but also for "the way in which it has resisted the dictates of the West".
"Many Western countries hated him because he stood against their exploitation and dependence, and also against their liberal influences, such as abortion, homosexuality and the LGTBI movement", explains Patilo. That is why "many Christians are mourning his loss", he says.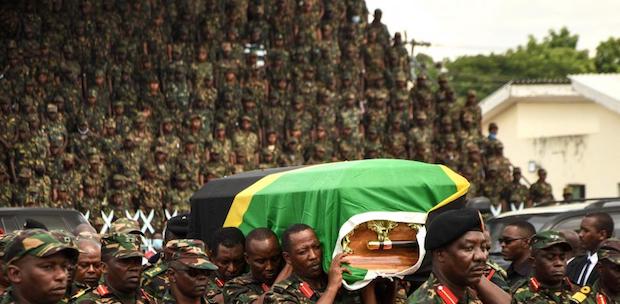 [photo_footer]Military carrying Magufuli's coffin at the state funeral. / Twitter @ComentarioUdeC [/photo_footer]
An established leader
Magufuli became president in 2015, winning the elections with 58% of the support and as the head of the country's main party, Chama Cha Mapinduzi, founded by the country's first president, Julius Nyerere.
It is a party rooted in the country's grassroots, with a nationalist character and a political approach that has moved from leftist positions towards a social democracy, in which the figure of the leader continues to be of paramount importance.
In 2020 he was re-elected with 84% of the vote, according to official figures. "There has been some discussion among evangelicals, about where the line of honouring a leader stops and becomes worship or seeing him as saviour", TAFES representatives underline.
Evangelical churches and the pandemic
Without lockdown and with very general security measures, evangelical churches, which account for 11% of the population in Tanzania according to the Joshua Project, "did not receive orders about closing, instead Magufuli declared the worship places should be left open for people to go in and pray to God to help the nation against this pandemic", says Patilo.
"Many churches implemented online services and some other voluntarily measures, except those in the villages to whom some of the hygienic equipments were expensive and hard to find", he explains.
And adds: "the pandemic has affected the Church both directly and indirectly, because even though there are no total lockdown, many people do not go to church and opt for online services. Evangelism have been affected too, because many people stays in their homes".
TAFES representatives, on the other hand, recognise that "most churches have continued to meet in person and face masks are scarce. However, people wash hands a lot".
A tourist country hit by the epidemic
Tanzania's economy has been severely affected by the pandemic. The country, which has become one of East Africa's top tourist destinations in recent years, was going into 2020 with annual GDP growth forecast at 7%, according to the International Monetary Fund. By the end of the year, it had fallen to 1% and now stands at 2.4%, while the global average is 6%.
"The pandemic has affected the tourism industry at large. Many hotels have closed; many companies have stopped offering their service because the number of tourists dropped. Very few people have come to visit Tanzania during this time. Many people who were working in this industry have lost their jobs because many companies have shut down or cut the number of employees", point out Patilo.
TAFES considers that the effect of the pandemic on the country's tourism economy has been "devastating". "The government has been working hard to advertise that Tanzania is safe to come to. There are currently no restrictions on people entering the country, although some airlines impose safety precautions".
[donate]