One year before the presidential elections in the United States, most of the Americans do not like to see images such as that of the prosperity gospel televangelist , Paula White, and other renowned evangelical leaders, praying alongside President Trump, a research reecently published by the Pew Research Center, said.
According to Pew, 63% say "churches and other houses of worship should keep out of political matters, while 36% say they should express their views on day-to-day social and political questions".
Meanwhile, "three-quarters of the public expresses the view that churches should not come out in favor of one candidate over another during elections, in contrast with efforts by President Trump to roll back existing legal limits on houses of worship endorsing candidates".
Furthermore, Americans are more likely to say that churches and other houses of worship currently have too much influence in politics (37%) rather than too little (28%), while the remaining one-third (34%) say religious groups' current level of influence on politics is about right.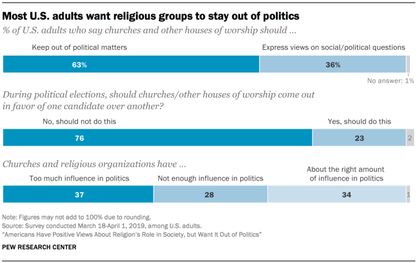 Six out of ten Americans want religion out of politics. / Pew Research.
POSITIVE INFLUENCE IN SOCIETY
More than half (55%) of US adults surveyed have a favourable view about the role religious institutions play in American life more broadly, beyond politics. They believe "churches and religious organizations do more good than harm in American society".
On the contrary, 24% say religious organizations do more harm than good, although two-thirds of the public (65%) pointed out that religious leaders in general have high or very high ethical standards.
"Among the US adults who attend religious services, majorities express at least some confidence in their clergy to provide useful guidance, not only on clearly religious topics (such as how to interpret scripture), but also on other matters, such as parenting and personal finance", the research adds.
The survey also shows 78% of the respondents think religion is losing influence in American life. Roughly four-in-ten (42%) of those lament that decline, while fewer than two-in-ten (17%) say that that is a good thing and 19% believe it makes no difference.
DEMOCRATS AND REPUBLICANS
Regarding politics, the research reveals that "slightly more than half of US adults say that the Republican Party (GOP) is friendly toward religion (54%), while just under half say the same about the Trump administration (47%)". Only 19% believe that Democrats are friendly towards religion.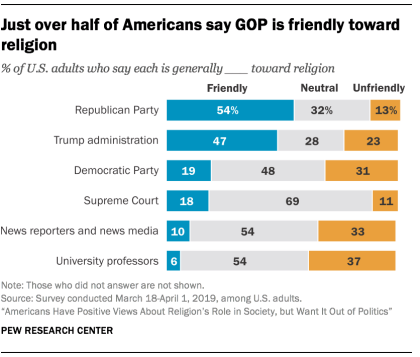 Are Republicans ,democrtas and institutions friendly towards religion?. / Pew Research.
"Republicans and Democrats mostly agree with each other that the GOP is friendly toward religion. However, most Republicans and those who lean toward the Republican Party say the Democratic Party is unfriendly toward religion, while most Democrats and those who lean to the Democratic Party view their own party as neutral toward religion", survey says.
INSTITUTIONS AND RELIGION
Other major societal institutions are viewed by majorities or pluralities of the public as neutral; for instance, roughly seven-in-ten (69%) of the respondents said the Supreme Court is neutral toward religion.
Perceptions are worse regarding the media and university professors. Only 10% and 6% of respondents consider them, respectively, favorable to religion, while 33% and 37% see them as contrary, and 54%, in both cases, indicate that they are neutral.