Colombia said goodbye to the World Cup afer losing the penalty shootout against England.
Yerry Mina, the most outstanding player of the Colombian team, scored the equaliser in minute 94' of extra time.
As tens of thousands of fans celebrated in the stadium and millions at home, Mina's gestures were very explicit: "Not me, but God", as seen in this video:
Later, before the penalty shootout started, the Colombian players formed a circle, and bowed their heads as Mina prayed out loud.
Mina's message about lifting the hand to Jesus. / Instagram Yerri Mina
After the defeat, the FC Barcelona player posted a message on Instagram, saying: "In the midst of the sadness I still can lift my eyes to you, Lord Jesus, and say thank you for bringing us to this point, for giving us strength and courage. For this and much more all honour and glory be to you my God!! 'And we know that in all things God works for the good of those who love him, who have been called according to his purpose' Romans 8:28".
The defender is not the only committed Christian in the Colombian squad.
Cuadrado's Instagram post about trusting Jesus despite defeat. / Instagram Cuadrado
Juan Cuadrado (of Juventus FC) also expressed his Christian faith after the game. "On my knees in front of you my Lord Jesus, in victory and defeat. We fought, we ran, we gave everything. Although we don't understand, we know that your will is perfect".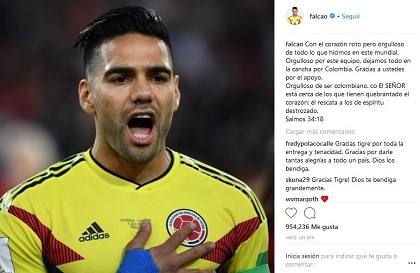 Falcao quotes a psalm after the game against England. / Instagram Falcao
Another of Colombia's most well-known players, Falcao, who defines himself as a "follower of Jesus", posted a verse of the Bible: "Proud to be Colombian. The Lord is close to the broken-hearted and saves those who are crushed in spirit. Psalm 34:18".
PLAYERS OF OTHER TEAMS EXPRESS THEIR FAITH
Many other football players have been vocal about their Christian faith as they competed in Russia during the World Cup.
Key players of Brazil expressed their Christian faith.
The Panama team prayed together on the field after their elimination.