In Spain, women trafficking moves around five million euros per day, according to official data.
About 14,000 victims of trafficking were identified only 2016. Barely a third of the women were captured by criminal organisations in their countries of origin.
In the 90s, the prostitution business changed. Pimps did not provide brothels with Spanish women anymore, now the clubs "imported" thousands of deceived foreign women through a mafia structure with infiltrations in the police, the justice system and in politics.
THE STORY OF "THE MUSICIAN" PIMP
Miguel, known as "El Músico"("the musician"), was sentenced to a long prison sentence after enslaving nearly 1,700 women.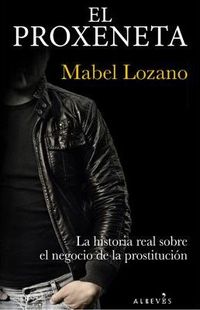 The Pimp, a book about the prostitution rings in Spain, by Mabel Lozano.
"I was a women trafficker for more than 20 years, I bought and sold them like cattle, to exploit them in my clubs".
Nowadays, he is rehabilitated and works with the police in the fight against sexual slavery.
He is also the main character of a newyl edited book, The Pimp, a real story about the business of prostitution, written by Mabel Lozano, a committed filmmaker with more than 12 years of experience denouncing human trafficking and sexual slavery.
"THEY BECOME A BLANK CHEQUE"
Twenty years ago, explains Lozano in interviews with Spanish newspapers, the owners of brothels used to negotiate with Portuguese traffickers to buy women for 6,000 euros, especially women trafficked from Brazil.
But years later, the costs fell because they learned to capture women in their countries and send them to Spain without intermediaries.
"At the most, they spend €1,200 or €1,500 for them", says Miguel.
"But these women become a blank cheque, the benefit of their exploitation could exceed 200,000 euros... They would have needed ten kilos of cocaine to reach the same figure as with just one victim!"
PROSTITUTION RINGS
The book describes the modus operandi of prostitution rings. Their hierarchies, their rules, the use of violence and intimidation to keep rivals at bay, as well as betrayal. Miguel and his gang even denounced some of their partners "to get the trust of the police".
The owners of brothels hire the best advisers to launder big amounts of money, through the opening of ghost companies, the use of front men and the creation of new lobbys, such as the National Association of Hostess Bar Entrepreneurs (ANELA in Spanish).
"EXPIRATION DATE OF 3 YEARS"
Trafficked women arrive in Spain deceived. "Nobody gets up one morning and decides to be a prostitute, but we have the spider web perfectly woven, with promises of a better life for her and her own, the compliments she likes to hear and some insignificant help that we present as great favors".
"As soon as the fly sticks its tiny paws to the sticky net, it is impossible to leave. And there they stay, hunted, ready to be exploited", Miguel points out.
Women are treated as a consumer goods, because "since they arrive in the brothel they have a maximum expiration date of three years".
After that time, "already broken physically and psychologically, they sell them for little money to third-party clubs or to pimps who force them to exercise in the street or on clandestine apartments", Lozano writes.
YOUNGER CONSUMERS
Spain is the third country of the world with the largest demand for paid sex, and the first in Europe since 2008.
Additionally, "It is increasingly common for groups of kids to turn to prostitutes as mere entertainment. For many, paying for sex is normal, just like consuming alcohol and marijuana", explained Luis Mariano Garcia Vicente, a professor of Social Work at the Complutense University of Madrid, and co-author of the study An approach to the prostitution consumer´s profile in Madrid.
CHRISTIANS AGAINST HUMAN TRAFFICKING
Last October, the European Freedom Network (EFN) organised its annual "Bridge" conference, which was held in a Baptist church in Berlin.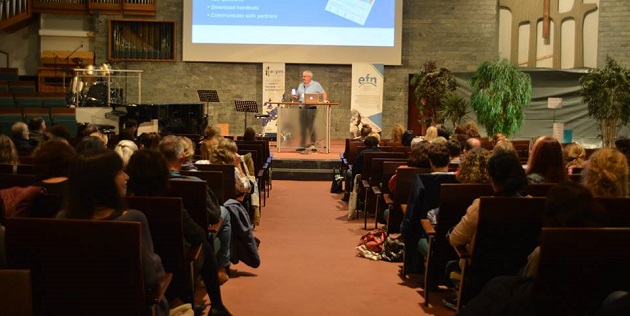 One of the EFN Conference workshops, on political campaigning to fight human trafficking. / J. Forster
About 200 women and men gathered in Germany – one of the European cities with the highest number of prostituted women – from 16-19 October to discuss common work to give answers to victims of human trafficking and sexual slavery in Europe.