The YouGov survey, made by Lancaster University researchers, found that 46% of adults of all backgrounds say they have no religion, while 42% call themselves Christians.
The poll of 1,500 people also found that younger generations consider themselves less religious than their elders.
The majority of those aged over 60 said they were Christian but 56% of people under 40 said they had no religion. Only three in ten of those said they were Christian.
There have been a significant increase in people with no religion, considering that a similar survey in January 2013 showed that 37 per cent had no religion.
NO RADICAL ATHEISTS AMONG THE "NONES"
These "nones", as they are known in the jargon, are not all fervently atheist: 40% are convinced that there is no God or "higher power", and 5% of them are absolutely certain that he does exist.
Only 13% of nones hold anti-religious views in the style of Richard Dawkins. A quarter take part in some spiritual activity in the course of a month, and 11% call themselves "spiritual."
But 99% do not take part in any religious group or form of collective worship, and many have a negative view of religious leaders and institutions.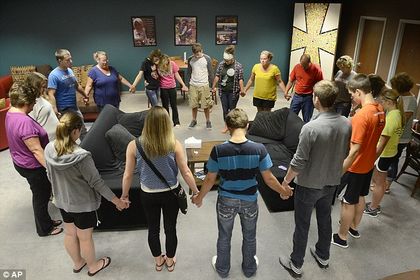 Younger generations consider themselves less religious than their elders. / AP
"NO RELIGION IS THE NEW NORM"
The results have been presented this week by Linda Woodhead, professor of the sociology of religion at Lancaster University, in a lecture titled "Why no religion is the new religion."
Speaking in advance of the lecture, Professor Woodhead said: "No religion is the new norm, and there is every indication that its majority share will continue to grow"
"In terms of upbringing, no religion is particularly stick. We can see that 95% of people with a 'no religion' upbringing retain that identity, whilst 40 per cent of those with a Christian upbringing lose a Christian identity", she stated.
"PEOPLE HAVE BECOME LESS RELIGIOUS"
"The rise of the nones may be due not only to the fact that people have become less religious, but that the churches have become more so – more set apart from society", Woodhead affirmed.
"It used to be quite common for people to identify as Church of England simply because they were English, but now they are more [likely] to think of themselves as having no religion."
On her Facebook she also wrote about it: "Religious sexism and homophobia is one part of the reason why we are now a 'no religion' majority country –overwhelmingly so amongst younger generations."
The Lancaster University survey also showed that the shift away from religion is "more pronounced in Britain than in other countries with a similar or related religious history."