Citizens in several European countries are propelling initiatives to host refugees in private homes. They feel the European humanitarian quotas are not enough and criticise their governments for their lack of action.
Iceland's government has come under pressure after a growing movement of more than 14,000 people joined a Facebook group in which hundreds offer their "homes" or other assistance like "helping refugees assimilate, donating clothes, money, furniture, children's toys, etc".
Bryndis Bjorgvinsdottir, promoter of the initiative, wrote an open letter to the Welfare Minister arguing that "we can do much more than just receive 50 people". According to the European system of quotas, Iceland's government is only obliged to take this small amount of refugees.
She thinks some of these refugees "are our future spouses, best friends, the next soul mate, a drummer for our children's band, the next colleague, Miss Iceland in 2022, the carpenter who finally finishes the bathroom, the cook in the cafeteria, a fireman and television host."
The welfare minister, Ms Harðardóttir, told national broadcaster RUV that authorities were reading the Facebook offers and would consider increasing the number of refugees accepted under a quota.
BARCELONA OPENS REGISTERS FOR HELPERS
In Barcelona, the city council (led by social anti-eviction activist and Major Ada Colau) has also challenged Spain's national government by studying alternative allocations for refugees and other migrants.
Colau, who belongs to a new left-wing popular coalition that won the last election by surprise beating all traditional parties, tries to find decent accommodation for more than 800 asylum applications. The city will open a register of individuals and families that are willing to offer accommodation or material goods.
The governments of Madrid and Valencia already said they join the initiatives to build a "net of shelter cities" in Spain. Nonetheless, the success of all these local initiatives will depend on the degree in which they find collaboration of regional administrations and the national government.
CHRISTIAN MP HOSTS 3 ERITREAN PEOPLE AT HOME
In Germany, citizens are also hosting migrants in their own homes to relieve overwhelmed official agencies.
Martin Patzelt, is member of chancellor Angela Merkel's CDU party. In the German Parliament, he is a member of the human rights committee and the sub-committee for civic involvement.
A father of five and a convinced Christian, he offered the top floor of his home to Awet (24) and Haben (19) - two Eritrean refugees he met in a refugee center. He has faced threats from radical xenophobic groups, since then, and now requires special protection from the Federal Criminal Agency.
According to a survey by polling institute Emnid, 25 per cent of the German population would share their homes or offer housing to a refugee.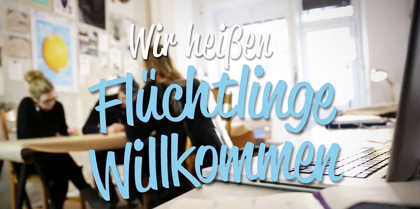 The Flüchtlinge Willkommen initiative in Germany.
Other citizens have started the "Flüchtlinge Willkommen" (Refugees are welcome) Initiative. Seventy refugees have already been placed in German homes after finding a matching domestic environment through this platform.
Green Party MP Dieter Janecek suggested private individuals and families who take in applicants for asylum should be backed by the administration. "This would particularly relieve overburdened communities quickly and effectively," Janecek said. "20 euros a day - for a maximum of three months."
Some of Germany's 16 states, however, have laws that prevent private individuals from providing housing to applicants for asylum.