Spain enjoys freedom of religion and freedom of conscience, but the Annual Report of the Observatory for Religious and Conscience Freedom (OLRC) denounces that each year theseose rights are attacked by individuals, groups or institutions.
The ORLC is a non-governmental association. After collecting data from the year 2019, it highlighted that "80% of the cases against religious freedom that occur in our country are against Christians".
Although the number of cases has decreased compared to 2018, the entity warns of the increase in violent attacks.
"Cases of violence against believers have increased (from one case in 2018 to three in 2019, all against Catholics), as well as the attacks on places of worship (from 53 to 55, most against temples or Christian symbols)", the report says.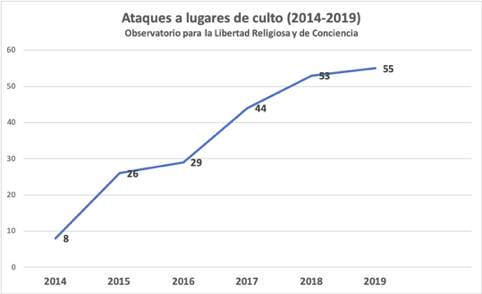 [photo_footer]Number of attacks against worship places in Spain, 2014-2019. / OLRC report[/photo_footer]
Radical secularism
María García, president of the OLRC, believes the attacks come from individuals or groups that seek to "impose a radical secularism that tries to eliminate all confessions from the public space".
"As Spain is a country with Christian roots, it is this religion that is the most attacked. A minority but very belligerent part of society, and some politicians, want to eliminate these roots and do everything possible to prevent the believers of this religious confession from manifesting themselves as such in public life", García explains.
Furthermore, "the data obtained in reports of other countries, demonstrate that this is also a trend in the rest of Europe".
Political parties and religious freedom
The report also considers political parties as an object of study, concluding that leftist party Podemos "is the most belligerent party against religious freedom, being implicated in 19 cases analysed. They are followed by communist party Izquierda Unida and Social Democrat party PSOE, with 14 cases each".
The OLRC asks political parties "to respect the right to religious freedom, both individually and collectively, as well as the treaties signed with the different religious confessions".
"A secular state does not mean eliminating all religious symbols and banning citizens from practicing their religion in public, but rather respecting it", the OLRC underlines.
They also call on the authorities to "also respect religious freedom with vigilance measures to reduce the number of desecrations of temples; as well as persecuting those who attack places of worship".