Spaniards voted on 10 November in what was the fourth general election in four years, but the outcome only worsened the political blockage in the Southern European country.
Incumbent Socialist Prime Minister Pedro Sánchez had called for the election after not being able to form a coalition with other parties after the April 2019 election. His party PSOE was 50 seats short of the majority – the Spanish Congress has 350 seats.
Around 70% of the population voted, despite fears that the frustration about the incapacity of political leaders to form a stable government would lead to a strong fall in the turnout.
The new Congress will continue to be led by the PSOE, but with 3 seats less, down to 120 (28% of the vote). The conservative People's Party came second with 88 seats (21%), up from prevoius 66.
The big winners of the election were the new nationalist and anti-immigration party Vox, which came third. They had first entered the Spanish parliament in the April election (24 seats), and now doubled their representation obtaining 52 seats and 15% of the vote.
Meanwhile, leftist Podemos fell to 35 MPs and Centre-right liberals Ciudadanos collapsed to the sixth position, only retaining 10 of its previous 57 seats.
A VERY DIFFICULT SCENARIO
Sánchez had called this election hoping to increase his party's strength. But the outcome was totally different, since he not only failed to increase his advantage on the second party, but his potential allies on the left also lost support.
The long standing hostility between socialists and conservatives makes the only option to form a stable government very difficult.
The political crisis deepens as the situation in Catalonia helped strengthen the pro-independence parties, which obtained 23 seats in this election. The Basque nationalist groups also celebrated gains, obtaining 12 seats.
THE NEW STRENGTH OF VOX
Far-right party Vox has called to close the 17 regional parliaments, illegalise pro-independence parties and deploy the police in Catalonia. The party also heavily criticised the exhumation of the remains of dictator Francisco Franco.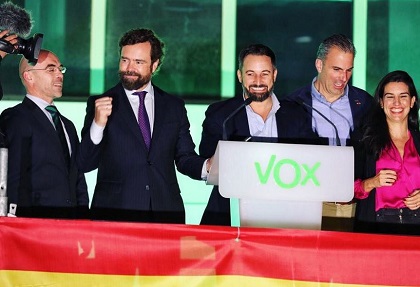 Far-right Vox celebrates gains on election night. / Twitter @ivandlm
The party's leader Santiago Abascal thanked all the "patriots" who voted for their option, which had the motto "Spain forever". Vox clearly played the anti-immigration card during the electoral campaign and also opposes gender ideology and abortion.