'Areopago Protestante' is the legal entity includes media outlets Evangelical Focus, the Spanish Protestante Digital and the Unamuno Prize.
Linked to the Spanish Evangelical Alliance, 'Areopago Protestante' announced during its last General Assembly that journalist Daniel Hofkamp becomes Protestante Digital's new Director. The Spanish news website, started in 2003, has a network of more than regular 50 contributors and has more than 400,000 monthly page views.
Pedro Tarquis, founder and Director of the website until February 2018 has become 'Areopago Protestante' new Executive Director.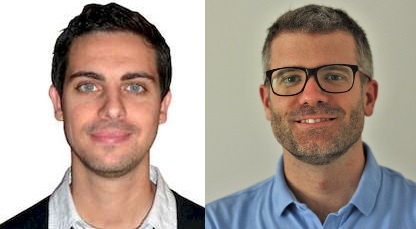 Daniel Hofkamp, Director of Protestante Digital; and Joel Forster, Director of Evangelical Focus.
At the same time, journalist Joel Forster has been named Director of Evangelical Focus. The news and opinion website for Europe was started in 2015.
The reorganisation "is a recognition of the maturity and responsibility that Joel Forster and Daniel Hofkamp have been showing in many areas, this is a recognition of their excellent work", Pedro Tarquis said.
Belén Díaz continues to work in the core team of Evangelical Focus. In January 2018, Jonatán Soriano joined the Protestante Digital team. Both are trained journalists.
NEW WEBSITE FOR 2018
'Areopago Protestante' plans to launch a third news and opinon website, in May 2018. The project was recently approved by a representative group of Latin American evangelical leaders, during a congress in Mexico. This third media project will focus on Latin America and will work in close collaboration with Protestante Digital and Evangelical Focus.