After the floods in the southern region of Albania last week, hundreds of houses remain under water and thousands of acres of crops have been destroyed. Evangelicals ask other believers across Europe to "join in prayer".
"Last few days it has been bad flooding in Albania. Specially in southern part of the country thousands of hectares of land were flooded," pastor Akil Pano (general secretary of the Albanian Evangelical Alliance) shared in an email which was forwarded to many countries by the European Evangelical Alliance.
"Hundreds of animals were lost and thousands of homes were covered by water (...) The government of Albania has mobilised the committee of the civil emergencies and the army also to rescue the human lives," wrote Pano.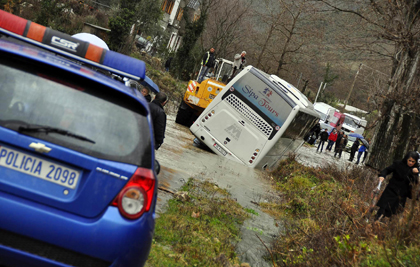 Connections flooded in Vier-Vlore, Albania.
HUNDREDS OF FAMILIES AFFECTED
"Please pray for God's intervention in this difficult moment for the country. We in the Gospel of Christ church [a local church] are standing in prayer together as one body and called other churches around Albania to stand with us in prayer. I'm humbly asking you to join your prayers in your homes and churches with us for Albania in this hour."
Albanian believers also asked other Christians to pray "that God will lead us in due time to take the next facing with love in action this humanitarian crisis. The moment that these hundreds of families will turn back to their homes they would need food, clean water and household materials. Maybe the next step will be this one, to provide these goods for some thousands of people".
Any person wishing to know more about how they could help, can contact Akil Pano through Mail (P.O. Box 8337, Tirana, Albania) or email (akilpano[at]gmail.com)