French President Emmanuel Macron's centrist party scored a decisive victory after Sunday's second round of parliamentary elections.
Just over a month after his stunning election to the Elysée Palace, France's youngest-ever president has guided his party to a huge win in legislative polls, crushing the old parties of left and right that have dominated French politics for decade.
350 PARLAMIENT SEATS OF 577
Mr Macron's party, La République en Marche (LREM), won 308 seats with 43% of the vote. LREM didn't even exist 15 months ago. Now, together with the 42 seats that its centrist MoDem allies won, they form a bloc of 350 seats, well over the 289 seats needed to control parliament.
The centre-right Republican-led grouping has 137 seats, and the outgoing Socialists 44.
For the first time, the far-left La France Insoumise (France unbowed) of Jean-Luc Mélenchon enters parliament with 27 seats, while the far-right National Front (FN) has increased its number to eight, including leader Marine Le Pen, who won her first-ever seat in the Pas-de-Calais district.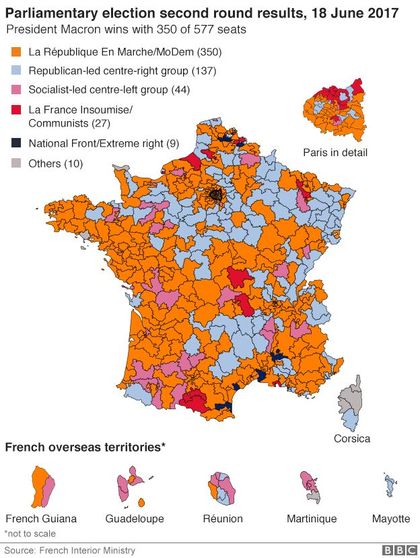 Second round results. / BBC
"THE FRENCH HAVE CHOSEN HOPE OVER ANGER"
LREM's spokesman, Benjamin Griveaux praised French voters for delivering "a clear majority and an opposition, both of which are very good news."
Prime Minister Edouard Philippe, a centre-right politician who joined Macron's movement, added that "through their vote, a wide majority of the French have chosen hope over anger."
RECORD ABSTENTION
Macron's triumph comes with a massive level of abstention. For the first time in history, turnout in a legislative election has slumped to below 50%, in both rounds.
On Sunday, a mere 43% of voters cast their ballots. This means the 42% of votes won by LREM candidates account for less than 20% of registered voters.
"The massive abstention considerably weakens the legitimacy of the new National Assembly and this five-year term starts on very poor foundations", Le Pen said
The FN, she went on, would be "the only force of resistance against the dilution of France, its social model and its identity."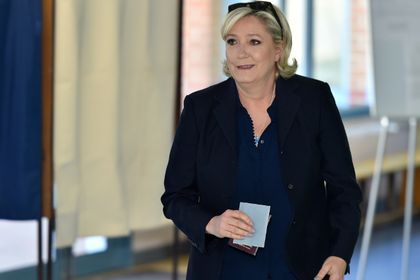 Marine Le Pen won her first-ever seat.
According to Jean-Luc Mélenchon, "the record abstention rate suggested that the French had entered a form of civil general strike."
Meanwhile, François Barouin, Les Républicains campaign leader, said his party's score placed it clearly in the position of "main opposition force on the benches of the National Assembly."
MORE WOMEN THAN EVER
Three-quarters of the assembly are new members and a record 223 of the 577 MPs are women.
Never has the French parliament had so many women MPs - 38.65% of the total - and that is largely down to President Macron's policy of equal gender selection. In his party alone, 47% of deputies are women.
LREM'S FUTURE GOVERNMENT
It is clear LREM has an absolute majority, quite a feat for a party that appeared for the first time in 2016, which has radically changed the face of parliament, introducing a host of political novices.
But the low turnout in the parliamentary elections indicates a high level of disenchantment among French voters. And the absolute majority that President Macron achieved was smaller than expected.
French commentators believe he has been given the powers to overhaul labour laws, cut tens of thousands of public sector jobs and pump billions of Euros of public cash in areas including struggling schools and job training, as he promised.