The centrist party of French President Emmanuel Macron looks on course to take a majority in parliament after the first round of elections held on Sunday.
Official final results released early on Monday showed that Macron's one-year-old La République En Marche (LREM) and ally Le Modem Party MoDem have won 32.32% of the vote in the first round.
The centre-right Republicans had 21.5%, while the far-right National Front (FN) had 13.2%, followed by the far-left La France Insoumise (France Unbowed) on just over 11%.
The Socialists, previously France's ruling party, and their allies won just 9.5%.
SET TO WIN UP TO 445 SEATS
With these results, projections show LREM and its MoDem ally could go from zero to as many as 445 seats in the 577-seat French national assembly. This would be one of the biggest majorities in France since the end of the second world war.
Les Républicains and its allies are estimated by Ipsos-Steria to take between 85 and 125 seats. This would make them the biggest group in parliament after Macron's group. But they could lose 100 of their current seats.
The Socialist party had a historically bad night, expected to lose more than 200 seats and end up with just 20 to 35 seats with its allies.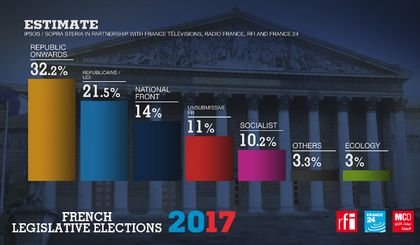 First round results. / Ipsos for FRANCE 24.
Jean-Luc Mélenchon's new hard-left movement, France Unbowed, was projected to win between 11 and 21 seats – potentially able to form a parliamentary group that requires 15 deputies.
Far-right Front National (FN), which came second in the presidential election with 10.6m votes, was projected to win between three and 11 seats.
The final outcome will be decided in the second round of voting next Sunday, June, 18.
VERY LOW TURNOUT
But turnout was sharply down, at 48.7% compared with 57.2% in the first round in 2012, which analysts said reflected a sense of resignation among Mr Macron's opponents.
This low turnout narrows the second-round field, because candidates need the support of 12.5% of registered voters to qualify for the final round.
Traditional parties are urging voters to back Mr Macron's rivals in a run-off vote to avoid him monopolising power.
"FRANCE IS BACK"
"France is back", said the prime minister, Édouard Philippe, after knowing the results. "For the past month, the president has shown confidence, willingness and daring in France and on the international stage".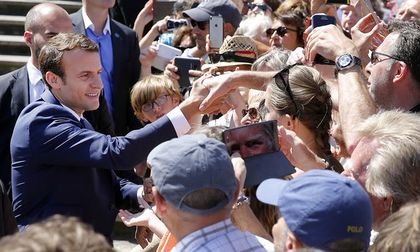 Macron greets folowers after voting on Sunday. / Getty.
He called the result a vindication of Macron's "winning strategy."
LE PEN: "CATASTROPHIC ABSTENTION RATE"
François Baroin, head of the Republicans, said the low turnout testified to the "deep divisions in French society" and was "extremely worrying."
Meanwhile, FN leader Marine Le Pen, blamed her party's poor performance on the low turnout, saying France's electoral system, which favours larger parties, needed to be reformed.
"This catastrophic abstention rate should raise the question of the voting rules which keep millions of our compatriots away from the polling stations", she said.
Socialist leader Jean-Christophe Cambadélis, who lost his seat in the first round, warned voters against giving LREM an absolute majority next Sunday.
He said it would result in "virtually no real opposition and we will have a National Assembly without any real counterbalance, without a democratic debate and not worthy of that name".
Elsewhere, German Chancellor Angela Merkel - who, like Mr Macron, has a pro-EU stance - congratulated him on the "great success" of his party. It was a "vote for reforms", tweeted (in German) her spokesman, Steffen Seibert.