Far-right National Front (FN) party leader, Marine Le Pen, has formally launched her presidential campaign. The nationalist leader promised she wouls put France first by freeing it it from the "tyrannies" of globalisation, Islamic fundamentalism and the European Union.
"144 COMMITMENTS"
At the end of a two-day event with party militants in Lyon, she unveiled the FN manifesto, consisting of 144 "commitments" to the French people. "The aim of this programme is first of all to give France its freedom back and give the people a voice", Le Pen said.
The manifesto includes leaving the euro zone, taxing the job contracts of foreigners, lowering the retirement age and increasing several welfare benefits while lowering payroll tax for small firms and income tax, among other measures.
The 144 commitments also provide for reserving certain rights now available to all residents, including free education, to French citizens only.
Le Pen said her government would hire 15,000 police officers, build more prisons, curbe migration and leave NATO's integrated command.
"THE EU IS A FAILURE"
"The EU is a failure", which has "kept none of its promises", Marine Le Pen argued; and she promised to "renegotiate French membership fundamentally, and to call a referendum on leaving if the attempt failed."
The FN leader also praised Britain for choosing to leave the European Union and urged the French to emulate Trump voters "who put their own national interests first."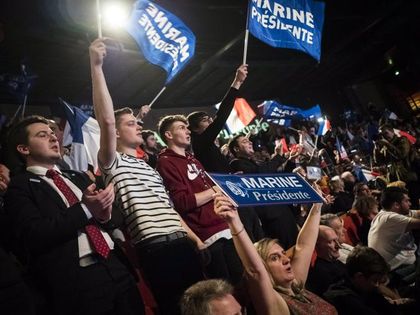 Le Pen supporters in Lyon.
GLOBALISATION VS PATRIOTISM
She compared globalisation to slavery, stating that it meant "manufacturing with slaves to sell to the unemployed", while the FN solution was a "local revolution" guided by "intelligent protectionism and economic patriotism."
"The French have been dispossessed of their patriotism. They are suffering in silence from not being allowed to love their country. The divide is no longer between the left and the right, but between the patriots and the globalists", the 48-year-old said to a crowd of around 3,000 people.
"FRANCE, FOR FRENCH PEOPLE"
With polls showing her now leading the first round of the election race, the head of the National Front (FN) attacked "mass immigration and Islamic fundamentalism" and said out she wanted a country "which owes nothing to anyone."
"The impossible is becoming possible, just as it's possible for presidents like Donald Trump to not only be elected in the face of a system ranged against them, but also that they keep their promises", she added.
Arguing that the FN was the party of the French people, Le Pen said she wanted a "free, independent and democratic country."