Finland has been considered the happiest country in the world by the United Nations five years in a row. However, it also stands out in other areas that raise suspicions about the reality of Finnish society.
One of them is drug use among under-25s. According to data from the European Monitoring Centre for Drugs and Drug Addiction (EMCDDA), Finland is the European country with the highest number of deaths caused by drug use among young people.
Its most recent data, for 2020, show that 29% of deaths among under 25s are due to drug abuse. It is followed by Hungary, with 25%, and Austria, with 24%.
A general crisis
Cases like that of Niko, a 25-year-old whose story is reported by Euronews, illustrate the parallel reality of the title of "happiest country in the world".
"When I was 16, I brewed opium tea and started using ecstasy, amphetamines and then came the whole range of drugs. I lost a lot of friends [...] When I was 20, they started to fall like apples from the trees", he recalls.
According to Finnish doctor, writer and Christian Democrat politician (the same party as Päivi Räsänen's) Pekka Reinikainen, who talked to Spanish news website Protestante Digital, "Finland is today a pagan country. Children and youngsters do not know who Jesus is. As a nation we have deep roots in shamanism, as our ancient book Kalevala shows".
"Christianity is only on the surface. No more than 5% of young people believe that the Bible is true. As a result, young people have lost hope and the meaning of life and take drugs", he adds.
EMCDDA data show that Finland ranks third in Europe in terms of overall drug-related deaths (0.00467%), only behind Sweden (also at the top of the list of the world's happiest countries) and Ireland.
In 2022 the Organisation for Economic Co-operation and Development (OECD) reported that as many as 84 out of every 1,000 Finnish people use antidepressants on a daily basis.
For Reinikainen "happiness is a myth. Finnish people are melancholy".
"It is mainly related to good social security. It resulted in about 130,000 young people who have more or less left the active society and do nothing that would help the society. This is catastrophic for a nation of 5 million, where we now are in serious trouble, because we need skilled workers".
Reinikainen points out that "things are really bad, because we lack 1 million people under 50 years; as a result of abortion that was made legal in 1970. Now it is abortion on demand. The birth rate has fallen dangerously low, in 2022 it was the lowest ever on record".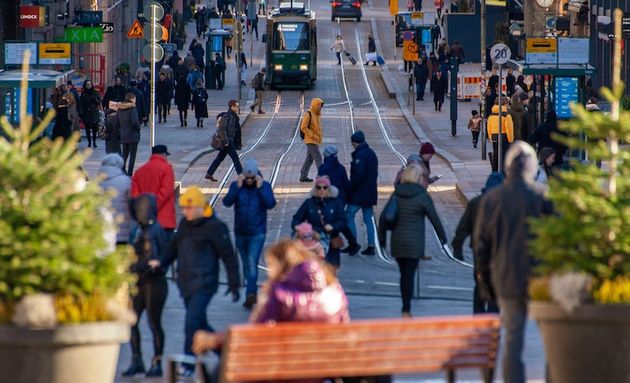 [photo_footer] inland has the third highest number of drug-related overall deaths in Europe / Tapio Haaja, Unsplash. [/photo_footer]
Political hopes?
One of the demands of some organisations that work with people who are homeless due to drug use, is for the government to set up regulated consumption spaces (also known as 'narco-rooms') where they can provide accompaniment and care.
According to data from July 2022, there are 25 such rooms in Germany and the Netherlands (in each country) and 13 in Spain.
In Finland, only 20% of drug addicts receive treatment, compared to 70% in neighbouring Sweden. This is why the Blue Ribbon Foundation, which works with drug addicts, thinks it is necessary to create spaces in which to consume "safely". "People use drugs in public toilets which are very dangerous for their health", they say.
Reinikainen is against it because "that would only have the effect of increasing drug use, because it gives young people the message that cannabis is safe as society accepts its use. This would only increase the profits of big drug dealers that operate outside our borders".
Finland recently held elections that brought about a change of government, following the defeat of the Social Democrats and the victory of the right. But for Reinikainen none of the political parties "know what to do because they do not understand the roots of the problem".
"You should restore hope to the minds of young people. A reason for living. The authority of the Bible must be restored, as well as family values. Politicians are doing the wrong things", underlines Reinikainen.
He also proposes "to increase punishments for drug use and importation. That sends a clear signal".
"As a medical doctor, I know very well what drug dependance means and what cannabis psychosis is. We must expose the lies about the safety of mild drugs that the drug lobby talks about. I do not know of any heroin user who did not start with cannabis".
Rehabilitation centers in churches
Reinikainen acknowledges that the statistics on drug use among young people are a challenge for the church in Finland. "We must be merciful for those who go back to drugs and try again. The therapy must absolutely be drug free".
"We should establish centers for drug addicts where former drug addicts can work. Of course the most important thing is to prevent drug use and this is done by telling children about Jesus, which has been totally forgotten in Finland", he concludes.
[donate]