Seven young Belarusian Protestants were arrested for talking to people on street about Easter on Saturday 15 April, the day before Orthodox Christians celebrates it.
According to a report by Forum 18 News, these believers put a two-metre high wooden cross in a street in central Minsk, close to the Orthodox Holy Spirit Cathedral, and explained the meaning of Easter to passers-by, offering them to write their sins on a piece of paper and attach it to the cross as a symbol.
Police detained the seven, five of them members of Minsk's New Life Pentecostal church, handcuffed them and took them to Minsk's Central District Police Station, where they were held for eight hours.
Minsk's Central District Court found all guilty of "violation of the procedure for organising or conducting a mass event or demonstration" and fined each of them about 2 months' average wages. They decided not to appeal against the sentence.
"Unfortunately, the court did not take into account the arguments of the young people that they sincerely wanted to share the meaning of Easter with others, that public order was not violated, and that they shared their message with those who were interested", New Life church pointed out the day the court issued the sentence.
As Evangelical Focus reported in 2021, New Life Pentecostal Church was forcibly evicted, and last year the goverment banned the church from meeting for worship in the church car park, fining its church leaders.
Catholic church banned for Easter mass
Meanwhile, the Roman Catholic Church of Saints Simon and Helena in Minsk has been closed for 8 months, after a suspicious fire that took place last September. Since then, authorities refuse to say when they will allow the Church to reopen for worship.
They asked officials "to allow us to hold the Easter Mass but received NO as an answer", said the church in its website
"Unfortunately, our shrine is still closed. The Red Church, which used to be filled with thousands of Catholics praying on Easter day, is empty now", they added.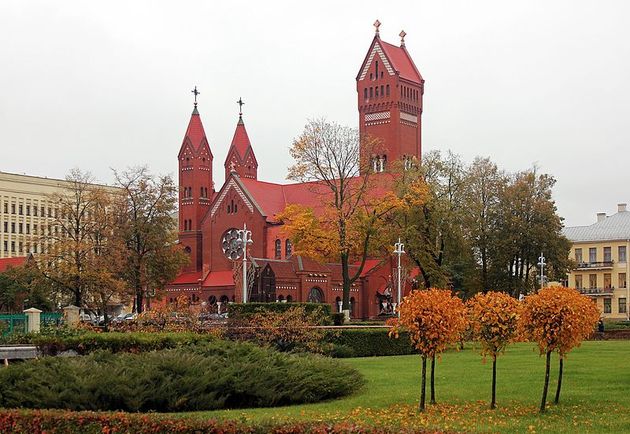 [photo_footer]Roman Catholic Church of Saints Simon and Helena in Minsk, / Wikimedia commons. [/photo_footer]
Religion draft law
Belarusian president Aleksandr Lukashenko plans to change the religion draft law in 2023, so that he asked the Council of Ministers to prepare the amendments by June, for them to be presented to the Parliament in September.
Furthermore, the government denied Belarusians the possibility to complain to the UN Human Rights Committee about violations of their rights under the International Covenant on Civil and Political Rights (ICCPR).
According to the UN Human Rights Committee that "will deprive victims of human rights violations in Belarus, who have been denied justice domestically, of bringing their complaints before the Committee".
"With this regrettable step, the Republic of Belarus becomes the fourth and only country in the twenty-first century to withdraw from the Optional Protocol, which has been ratified by 117 countries", added the Committee.