Those who experienced first-hand the consecutive earthquakes in Turkey's Kahramanmaraş region that shook the earth on 6 February, leaving 50,783 people dead (official figures), still have vivid memories.
Those were days of tragedy that filled televisions and front pages of newspapers with images of collapsed buildings, shattered concrete and crowds of people waiting uncertainly in the streets.
How to organise all the emergency humanitarian aid that the hundreds of thousands of survivors on the ground would need quickly became the main issue to solve.
While rescue teams mobilised from different corners of the globe, inside Turkey, the Protestant Church Foundation began a humanitarian work that has not stopped.
"The death toll continues to rise. Tens of thousands of people who survived are still homeless", the organisation says.
Logistics and supply support
One of their first tasks was to negotiate with the Hatay Samandağ and Hatay Vakıflı authorities the temporary transfer of a warehouse and land, from which to organise the shipment of materials by truck and, at the same time, to install up to six containers, four of which are used to store incoming material aid, and two as temporary dormitories for the volunteer teams.
"The infrastructure of both the containers and the toilets is complete, and they are now being actively used", they explain.
From February until now, several trucks and minibuses have distributed food, hygiene products for women and babies, water, fuel, cookers, firewood and medical gauze, among many others.
They have also distributed clothes, cooking cookers and kitchen utensils to families living in tents.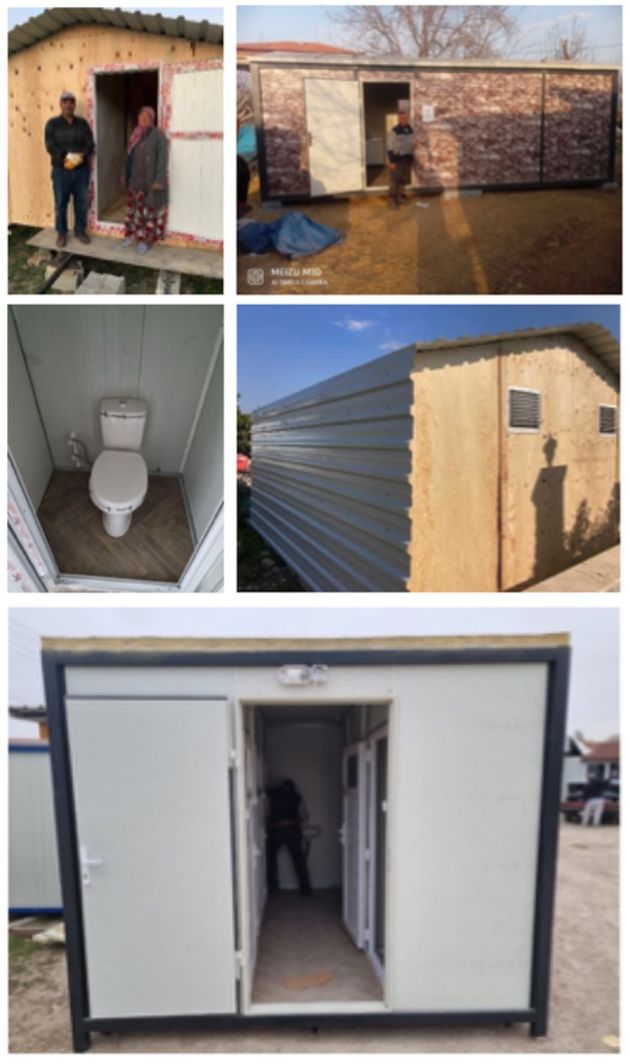 [photo_footer] Distribution of food, clothing, building of toilets.... The opportunities to help and serve are huge.[/photo_footer]
Building a new routine
In the midst of the catastrophe, the Protestant Church Foundation says it has worked hard over the past months to help the victims make their new daily routines as easy as possible, because even washing clothes has become a "challenge".
"To solve this problem, we have installed washing machines and dryers in different regions of Hatay Samandağ, with their follow-up and maintenance. For example, we have installed two washing machines and two dryers in two different cities and provide them with around 30 packets of laundry soap and 30 boxes of fabric softener on a regular basis".
Another major shortage in the area is tents. Although they bought 30 tents shortly after the earthquake and distributed them in Samandağ, they have received 200 more from China in recent weeks and are now working to distribute them to local families.
"In addition to general needs, there are also particular needs. For example, we have given a laptop to a university student so that he could continue his studies. Or, for example, we are going to provide a cradle and some supplies for a pregnant woman who is going to give birth", points out the foundation.
They have also worked to provide leisure and educational activities for the children of affected families. "Since the first days of the earthquake, pastors affiliated with our foundation visited the region at different times, identifying needs on the ground and working to provide as much organisational support as possible".
Furthermore, "brothers and sisters from our churches volunteer to help in many ministries and capacities, such as distributing aid, unloading goods from the warehouse, supplying necessary materials, cooking, etc.".
Over 100 houses built
The main initiative in the foundation ongoing aid campaign is the 'Tiny House' project, which consists in building 25m2, two-bedroom temporary houses in the Hatay area.
They "are working on building houses for people who lost their homes in the Hatay earthquake, giving priority to brothers and sisters in faith".
"We have achieved our initial goal of 100 houses. We are now working to complete our second goal of 140 houses. So far, we have prepared and installed 106 wooden houses that have been handed over to families living in the area", adds the foundation.
The project is carried out by "a team of volunteers working full time in the region. Although we build these houses in the Hatay region, we also try to meet the demand for housing that believers in the surrounding provinces may have. For example, we have sent a container house to a brother in faith in Malatya".
Alongside the houses, the local Protestants also worked on the installation of toilets and showers, because "one of the biggest needs in Hatay is sanitation".
So far, "we have provided a total of 39 units of toilets and 27 units of showers. We provide all the equipment for each unit and make sure it is delivered already finished. We also add an electric heater to each shower", they say.
According to foundation, "it seems that the material and spiritual needs of the people in the region will continue for a long time ... May the Lord strengthen us during this time, so that we can continue to serve the survivors with the same willingness and enthusiasm as always. May he continue to use His church to comfort those affected by the earthquake in this difficult time".
Learn more about the Foundation of the Protestant Churches in Turkey.
This article was produced for the Líderes Empresariales section of Protestante Digital, an initiative of the Gospel, Economy and Business (Tres-E).
[donate]