Jose Maria Martínez, one of the great men of the modern Spanish evangelical history, died placidly on June 19, while sleeping, in the Evangelical hospital of Barcelona, as his son Pablo Martinez Vila explained. He was 92 years old.
A farewell service will be held this Tuesday, June 21, in Barcelona.
A FRUTIFUL WORK
José María Martínez left public preaching when he still was active, but knowing that his strength was not enough to deal with the great responsibilities he had has until then.
However, he continued writing in his blog at Pensamiento Cristiano (in Spanish), along with his son Pablo Martínez, until it was impossible for him to write.
He was known for his huge work, his simplicity and humility, together with a deep love for the Lord, his church and God's Word.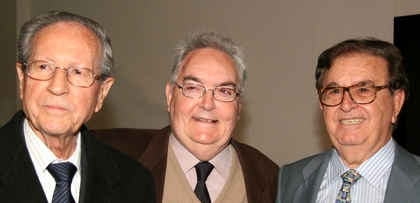 Martínez with other evangelical leaders of his generation, José Grau (died) and J.A. Monroy.
A COURAGEOUS GENERATION
He belongs to a generation of great men of faith, with a theological and intellectual depth, who marked a milestone in the Spanish history of Protestantism.
He lived before the political transition from Franco's dictatorship to democracy.
He was the pastor of a church in Barcelona for 30 years. Writer, thinker, theologian and polyglot.
Throughout his life, Martínez lead several key Christian organisations. He was Director of the Evangelical Centre of Biblical Studies (CEEB in Spanish) in Barcelona; President of the Spanish Evangelical Alliance, the Federation of Independent Evangelical churches of Spain (FIEIDE in Spanish), the Spanish Bible Society and the Spanish Bible Union, among others.
"HE PLAYED A VERY IMPORTANT ROLE IN THE WEA AND THE EAA"
"Jose Maria Martinez was key for the reestablishment of the Spanish Evangelical Alliance (AEE) in 1953, during the dictatorship. He was the President of AEE, and one of its greatest defenders and promoters throughout his life", Jaume Llenas, current General Secretary of the Spanish Evangelical Alliance, sayd about him.
Llenas adds: "He played a very important role internationally, in the WEA and EEA meetings. In my personal opinion, his boost is still present in our movement today. We can be very grateful for the God´s gift that his life has been."
Many other evangelical leaders have expressed their thankfullness for the life of José María Martínez in the last hours. You an read some of these articles in Spain's website Protestante Digital.
BIOGRAPHY
Martínez was born on February, 16, 1924, in Castejón (Navarra, Spain). At 12, he and his family moved to Manresa, close to Barcelona, where he knew the gospel and became a Christian.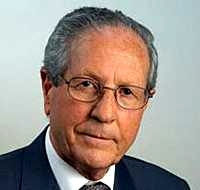 José María Martínez.
After the Spanish Civil War, during a really difficult time, he had a deep spiritual experience that led him to consecrate his life to Christ and his service.
In 1943, the Barcelona Baptist church of the Grace appointed him as a pastor. He was in this role until 1979, when he had to quit due to health problems. During his pastorship, the church grew from 100 to 400 members.
Educated in the London Bible College tradition, he broadened his studies with German theological books. This biblical and theological knowledge make his work academic, but accessible to all kinds of audiences.
His greatest work is the study of the Bible hermeneutics, as a result of a deep investigation that, keeping the evangelical perspective, was opened to the dialogue with modern tendencies in different fields, and it concluded with a clearly biblical personal worldview.