Over 10,000 people from all over France and abroad took the streets of Paris on Saturday 21 May for the national March for Jesus.
After a two-year break due to the pandemic, the march gathered people of all generations, with a majority of young people between 25 and 35, not only from France but also from Switzerland and Belgium and "a group who came from Australia and helped to design the banners", explained the organisers.
"We are very happy. We were expecting 8,000 people and that goal was exceeded, according to the police. It is unusual for the organisers to give a lower number of participants than the police", said Paul Olivier Pluquet, president of the Federation March for Jesus France (MPJF).
Mission and unity
A group from the ministry Youth With A Mission and six musical bands led the march, which also had a time for worship, prayer, testimonies and evangelism. Around 500 gospels and 500 Bibles were given to passers-by.
The president of the MPJF pointed out that this year social media, and above all influencers have played an important role "to make this strong mobilisation possible, unlike previous editions. Usually it was the pastors who announced the event in the churches".
The aim of the march is "to proclaim the love of Jesus to touch hearts" and to show "the unity among those who profess Jesus", underlined André Raoilison, Vice-President of MPJF. "Only Jesus can bring salvation to people. Nothing and no one else in the whole world saves us", he added.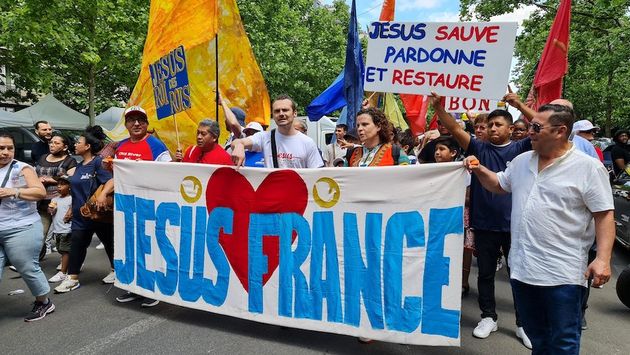 "After the covid, people needed to express themselves, to share, to live this time in unity. The march allows people to express themselves outside the walls of the churches. It removes all the labels that often divide us", stressed Pluquet.
Future marches
After this year edition of the March, MPJF is already planning the return of the MPJ to others cities of France for 2023, "so that this spirit of love and unity spreads even more as a testimony to the Good News of Jesus", said the MPJF president.
"The March for Jesus allows us to show the joy of our own encounter with Jesus. There is no other event that brings together so many people in the public space", concluded Pluquet.