A "historic" agreement has been reached between the Church of England and the Church of Scotland - marking their first formal working arrangement.
The document, called The Columba Declaration, will be debated next year by the General Synod of the Church of England in February and the annual General Assembly of the Church of Scotland in May.
Discussions making a formal declaration on how the churches are working together have been underway since 2000. The report has been underway since 2010.
In its four chapters, the report sets out the history of partnership between the two churches and the shared beliefs that allow for close cooperation between the churches, before going on to explore how the partnership could grow.
COMMUNION AND MISSION
The Columba Declaration commits the churches to "grow together in communion and to strengthen their partnership in mission."
Church of Scotland minister John McPake and Bishop of Chester Peter Forster signed the 15-page declaration which comes at a time regarded by the two churches as "particularly critical" in the life of the United Kingdom.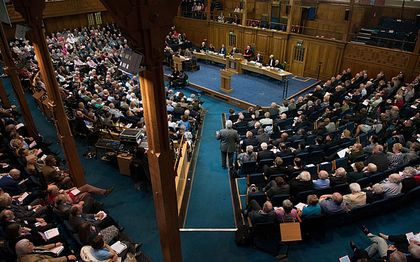 Church of Scotland Assembly
Both churches hope it will enable them to speak and act together more effectively "in the face of the missionary challenges of our generation."
"We believe that approval of the Columba Declaration by our two churches will represent a significant step in the long history of their relationship, one that affirms the place we have come to and opens up new possibilities for the future", McPake affirmed.
"ALL ARE WELCOMED"
Founded in two different branches of Protestantism, England's Church is Anglican and Scotland's Presbyterian. The agreement will allow clergy and lay people from each Church to be welcomed into the other when they move across the border.
It also recognises that the two Churches have constitutional responsibilities in separate parts of the UK.
"We face the common reality that constitutional change could have a significant impact on our own identity and relationships", the 15-page statement says.
At the same time, they acknowledges the "distinctive partnership in the gospel to which our two Churches are called within the United Kingdom, rooted in our shared history and in our parallel and overlapping roles as the churches of our respective nations."
This year the two Churches established the Churches' Mutual Credit Union as a response to concerns that low-income families needed access to low-cost banking and loans.