Capitalist West Germany and the communist East reunited on October 3, 1990.
Celebrating the 25th anniversary, the President of the Republic Joachim Gauck compared the situation back then to the refugee crisis now. "In 1990 there was also the legitimate question: 'Are we up to this challenge?' Then too, there was no example from history to follow."
In a keynote speech, Gauck added: "But unlike then, those which previously didn't belong together will now grow together."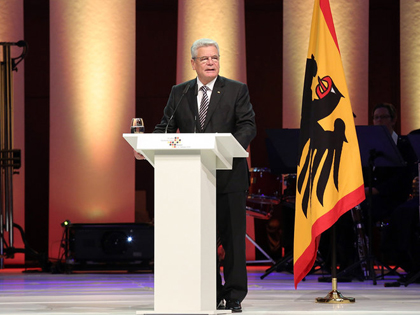 Joachim Gauck, during the celebration. / Getty
Around 1,300 guests attended Saturday's celebrations in Frankfurt's Opera House, including Chancellor Angela Merkel, European Commission President Jean-Claude Juncker and South Korean Unification Minister Hong Yong Pyo. Also present were around 50 rights activists from the former East Germany and 30 refugees.
In Frankfurt, Chancellor Angela Merkel added: "Twenty-five years on, we are facing great challenges with the issue of refugees", she said.
"Now too, we Germans will not be able to solve the problem on our own but only with Europe, with a fair division of the burden, and with the rest of the world."
HUNDREDS OF EVENTS DURING THE WEEKEND
October 3 is a public holiday in Germany, and celebrations to mark the occasion are expected to last until Sunday evening. By that time up to 1.5 million people from all over the country are expected to have attended over 300 events under the motto "Overcoming Borders."
On Saturday evening, visitors will be treated to a light show with 25 bridges - one for each year of unity - illuminated along Frankfurt's river Main.
The main architects of German unity, former German Chancellor Helmut Kohl and former Soviet President Mikhail Gorbachev, have said they cannot attend the celebrations for health reasons.
A recent poll showed that 80% of the German population thinks the reunification was positive for the country.