More than a hundred people gathered in Madrid for the launch of the "Fundación RZ para el diálogo entre Fe y Cultura" (RZ Foundation for Dialogue between Faith and Culture).
The foundation has been working in Spain since 2013, collaborating in conferences and events at universities all around Spain, but it is now when they have now settled in Madrid.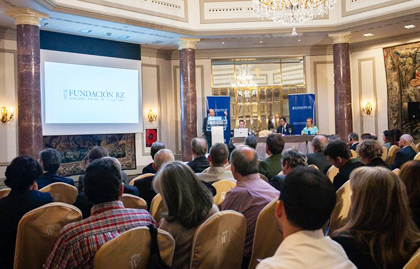 The event was well attended. / Fundación RZ
Representatives of the public sector, as well as Protestant entities, ministries and churches, attended the event, which was led by its president, Pablo Martínez Vila; the director of the Oxford Center for Christian Apologetics, Amy Orr-Ewing; the international director of RZIM, Michael Ramsden; and the Director of RZ Foundation in Spain, Andy Wickham.
HELPING THE THINKER BELIEVE, AND THE BELIEVER THINK
RZ Foundation Spain belongs to RZIM (Ravi Zacharias International Ministries), which has offices all around the world, with the primary aim of fostering the presence of the Christian faith in the public arena.
"We are witnesses of the rising interest of the academic community in spirituality", commented Andy Wickham. "In Spain, discussing about the existence of God is seen as obsolete, but we do not believe that", he added.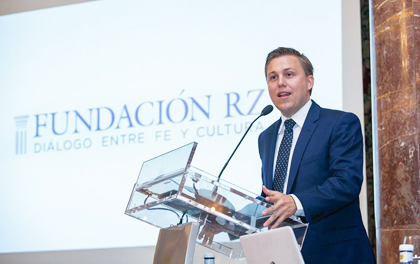 Andy Wickham, director of RZ Foundation Spain. / Fundación RZ
In Spain, the foundation has started working with other ministries in the universitiy setting, like International Fellowship of Evangelical Students (called GBU in Spain). They collaborate because, as Wickham explained: "we believe that life is important, faith is important... and if truth exists, it is important too."
"If social health is at risk, it is important not to avoid the key questions and talk about it openly", said the director of RZ Spain, who has given many talks at Spanish universities this year.
"DIALOGUE IS NOT A BATTLEFIELD, BUT A CROP FIELD"
The RZ foundation president, psychiatrist and well known speaker Pablo Martínez, emphasized the importance of understanding the dialogue not as "a battlefield" but as "a crop field" because, as he said, in Europe "we have too many battlefields and not enough working fields where the aim is not to win, but to convince."
"When two human beings really listen to each other, they meet each other. That encounter changes us, reshapes us, transforms us", the psychiatrist added.
According to Martínez, RZ "seeks to promote dialogue in a very sensitive area: the relationship between faith and culture", because "in an age of fundamentalism and ruthless intolerance, this kind of dialogue is not a luxury: it is a vital necessity if we want to coexist well", he stated.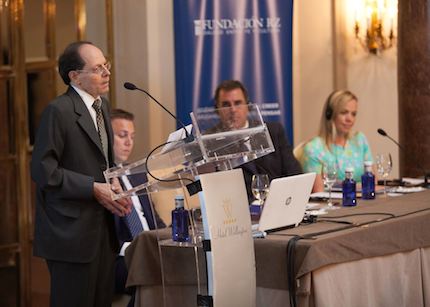 Pablo Martínez Vila during his talk. / Fundación RZ
The RZ Foundation president said he believed "faith is a way of life, shapes one's worldview and eventually creates a culture; that is why the relationship between faith and culture is both natural and inseparable."
"It is crucial to encourage this encounter between the two of them. Supporting this field of work seems to me one of the best ways to invest in 'social health'; that is, in coexistence and peace", Martínez concluded.
GIVING ANSWERS TO THE BIG QUESTIONS
The international director of RZIM, Michael Ramsden, talked about the big important questions that everyone has sooner or later. "We all wonder: Who can we trust? In whom can we put our faith? Is there any future for us?" He also spoke about the importance of "finding a framework" for that dialogue between faith and culture.
Amy Orr-Ewing, director of the Oxford Centre for Christian Apologetics, expressed how happy they were at RZIM for the inauguration of the Spanish branch "after many prayers" and said she convinced that "we will see a new generation engaged in these issues, which will find the answers it seeks in a personal faith in Jesus Christ."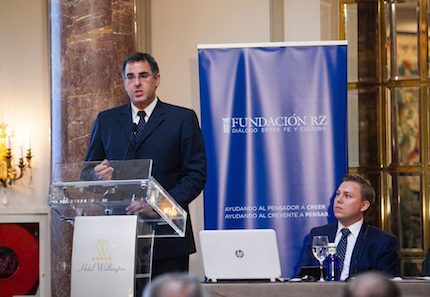 Michael Ramsden, internacional director of RZIM. / Fundación RZ
You can find more information about "Fundación RZ para el diálogo entre Fe y Cultura" (the Spanish RZ foundation) here, and RZIM at a European level here.