"Palau, the movie", a feature film about the legacy of international evangelist Luis Palau, will premiere on April 4 and 6, 2019 in the United States, Argentina, Bolivia, Colombia, Chile, Peru and Mexico.
It tells the true story of a man who was born in a small town in Argentina. He dedicated his life to God and embarked on a challenging and inspiring journey that made him one of the most influential faith leaders in the world.
PALAU: "MY PRAYER IS THAT EVERYONE WILL BE ENCOURAGED TO ACCEPT JESUS WHEN THEY SEE THE MOVIE"
"I never considered myself a special person, I was just a child from a livestock town in Argentina, but God took my heart at an early age and chose to use me to share his Good News in an extraordinary way", evangelist Luis Palau says.
He added: "Now, more than 65 years later, I have had the joy of guiding millions of people to publicly confess their faith in Jesus Christ, from princesses and presidents to criminals".
"This movie is the story of that journey. My prayer is that when they see it, everyone will be encouraged to accept Jesus, and trust in Him for great things", Palau pointed out.
GASTON PAULS AS LUIS PALAU
Well-known Argentinian actor Gastón Pauls plays the role of Luis Palau, along with actors Scott Reeves ("Nashville") who plays Ray Stedman, mentor of Palau; and Daniel Roebuck ("Lost", "The Fugitive") as Fred Renich, a figure of great influence in the life of Palau.
LUIS PALAU AND HIS CANCER
The premiere of the film comes at a very important time in the life of Luis Palau, as he continues to fight against a lung cancer that was diagnosed in 2018.
After a favourable response to treatment, he has undergone a new medical review, to analyse its evolution.
"Unfortunately, the news was not what we expected", said his family. Although his blood tests continue to be good, other tests confirmed that the tumour began to grow again after several months of improvement.
EVANGELISTIC FESTIVALS AROUND THE WORLD
Recently, Palau has been discussing with his team the plans for evangelistic campaigns throughout this year, including the festivals in Abidjan (Ivory Coast); Madrid (Spain); Swansea (Wales); Tyler (Texas); and Cape Town (South Africa).
His son Andrés Palau will be the main speaker of each of these campaigns, but they have hope "and keep praying" that Luis will be strong enough to participate in the Madrid festival next June.
They also expect to release his latest book: "Palau: a life of fire" in June 2019.
GASTON PAULS INTERVIEW
Javier Bolaños, Director of Latin American news website Evangelico Digital, interviewed Argentinian actor, Gastón Pauls about his role of Luis Palau in the movie.
Question. what did you know about Palau before the movie?
Answer. My first contact with Palau was 16 years ago, when he went to Argentina for one of his festivals. I was making a documentary TV program and I went there to cover the event, not to talk to him, but to the people who went to see Luis.
I was in a very dark time of my life, even close to death because of drugs. I was among the crowd of the festival, and the people came to me and said: "Gaston, do you want to have an encounter with God, with Jesus?", I told them that I appreciated the invitation, but it was not my time.
Five years later, when Luis came back to Argentina, he called me to thank me for the program that we did, for being respectful with them. At the end of our talk, he said that he hoped someday we would meet and that he was sure that that would happen.
Nine years later, I received a call form Miami, because they were thinking in making a movie about the life of Luis, and they have thought in me to be the main character.
Now, looking at this from the distance, I just can only delight and surrender to the way God makes everything and how He manages His time. I can only thank Him for the love that He puts in everything He does.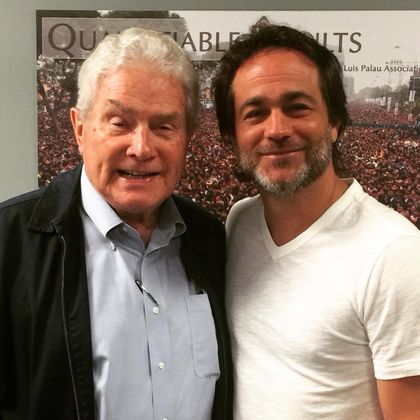 Luis Palau and Gaston Pauls.
Q. You and Luis Palau met twice before the shooting. What did he tell you? Did he give you any recommendation?
A. I asked him about his childhood, his fears, even about his sins, and his desperation, - if he felt any during his life. He answered all the questions with love, humility and simplicity. Luis is not a complicated man, just as the Word of God is not complicated either, we complicate it, the Word is simple.
It was easier for me to understand my character, mainly because Luis is there with you, not like other important people who are different when they act as public figures and when they are face to face with you.
Q. Which was the most moving moment of the shooting for you?
A. As I told you before, I had problems with drugs before, I am a recovering addict since 11 years ago. When you are an addict as I was, you are in the dark. I did not believe in God, I had never prayed. One night in 2007 when I could not sleep, I found myself asking God to help me, and He helped me.
When we ask God for help, it comes in His time, not in our time, we cannot do it by ourselves. I say this because I did not believe in God then.
When we were shooting the last days of the film in Houston, I had to shoot 12 scenes in 2 days. The scenes were very difficult, because I had to shout, preaching to many people.
The last day, we shot the first preaching of Luis in Bogotá in 1966, the most difficult scene for me.
I started the scene, that we had to repeat 8 times because of the different shots, and I lost the voice in the first scene. I could not talk at all. I felt so bad, because everybody was waiting for me.
We waited 5 minutes, they gave a cup of tea, they gave me pills, but I could not talk. I did not know what to do, and I thought that the only thing I could do was asking God that through my voice, His voice could be heard.
Then the extras of the film, who were believers, started to pray with me. Five minutes later, my voice came back, stronger than ever. That was one of the most moving moments of my life.
I hope that, God willing, the movie will be useful for someone. The movie is called "Palau, one man, millions of souls", and sometimes trying to reach millions, we lose the face to face relationships. If this movie serves just one, that will be a success for me. I hope that it will touch the heart of just one.