This year's first master class of the Forum of Christian Leaders (FOCL) will take place on Saturday, January 29.
As in previous editions, registration is free and available for all.
Pastor, Director Cor Deo ministry and author Peter Mead will be teaching a 3-hour-long (15.00 – 18.00 London Time) free master class called "5 steps to practical spiritual growth".
"So much is written about spiritual growth. Anyone in a relationship with God wants to grow spiritually, yet often it can seem so complicated! We can feel pulled between intellectual approaches on the one hand and the pursuit of mystical experiences on the other", points out the FOCL in the presentation of the master class in its website.
According to the FOCL, "one expert tells us to look back into the mists of time, while another tells us to look within, or to look at their list of how-to steps. In the midst of the noise, somehow Jesus can get lost".
"In this master class, we will consider some simple biblical insights that will help us grow spiritually in a straightforward, practical, and Jesus-focused way", stress the organisers.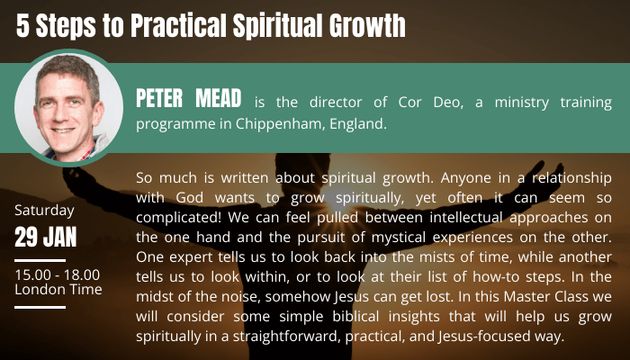 The FOCL will hold it by Zoom with a time for questions and answers. Participants will be able to join from home or in groups from church settings.
There will be one more master class in this format on 19 February, offered by the President and professor of Theology at Union School of Theology in the UK Michael Reeves titled "Gospel People".
The FOCL also organises the annual European Leadership Forum conference in Wisla, Poland.